"Well, I'm a shop technician for a small construction company. I have to keep things moving – the equipment and plow truck. So, during the winter, when the boss goes home to sleep, I'm in charge of break downs.
One truck we had was an F550 dump with plow. It lost power and the truck shut down while the blade was down and in the middle of the road. The JNC660 jump pack had enough power to get it going and bring it to the parking area.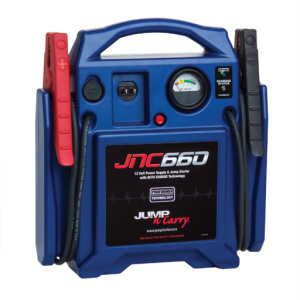 On the side, I restore Caterpillar vintage construction equipment that goes to shows. I use the JNC660 to help with jumping or giving extra boost for starting the diesel motors or the 2 cylinder pony motor. And it helps around shows for other use on other people's equipment or trucks. Have to keep the show moving so we can show the world what equipment was about from the 1890s to the 1980s.
I also restore equipment to help others, free of charge, who can't do the work themselves. The attached picture is my pride and joy. I always have to jump it, since the generator works [poorly]. D2 with pony motor and diesel motor: pony motor fires off the diesel. During cold weather, it's hard to get her going, but this pack makes it 10x easier to start her.
This has been the best investment ever and helps me keep ahead of the game. Before this, I had another brand that broke 3 times and couldn't jump stuff I needed it to. Was a huge let down and a loss of 120 bucks. It sucked durability-wise. I dropped it off a truck and the back broke. I jumped a truck with it and it melted the plastic. I jump that same truck with the JNC660 with no issues."
Kevin
Bellingham, MA