PROFESSIONAL JUMP STARTERS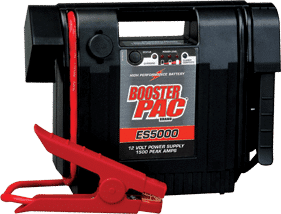 Commercial Grade for Professional Use
Bring on the power! With a high performance ES Series commercial grade battery that delivers the startling power that the pros crave, this compact and rugged unit simply does not disappoint. When professionals need a reliable jump starter they turn to a Booster PAC jump starter.

View the lineup of

It's All About the Battery
All Booster PAC jump starters are equipped with a Premium ES Series battery. This high performance replaceable battery is specifically developed for vehicle jump starting applications. It's powerful enough to jump start up to five vehicles on a single charge which makes the Bosster PAC a perfect companion for any situation in which you need reliable portable power.
Click below to learn more about the Booster PAC jump starter.

Ever reach for your jump starter only to find that its battery is depleted? Make sure it never happens again by signing up for free charge alerts. Alerts are not model-dependant and you don't have to own a Clore unit to benefit from this service.

Like what you see here and elsewhere on our site and at Cloreinfo.com?
Sign up to receive our e-newsletter for helpful tips and useful article related to our products and the applications they serve.