The new flagship offering from SOLAR, the BA427 Digital Battery and System Tester with Integrated Printer, delivers a comprehensive testing solution for shops, fleets, dealerships, marinas and other high volume service environments. With it, a technician can test battery health, starting system performance and charging system output, plus take voltage and amperage readings throughout the vehicle's electrical system with its optional volt probe and amp clamp.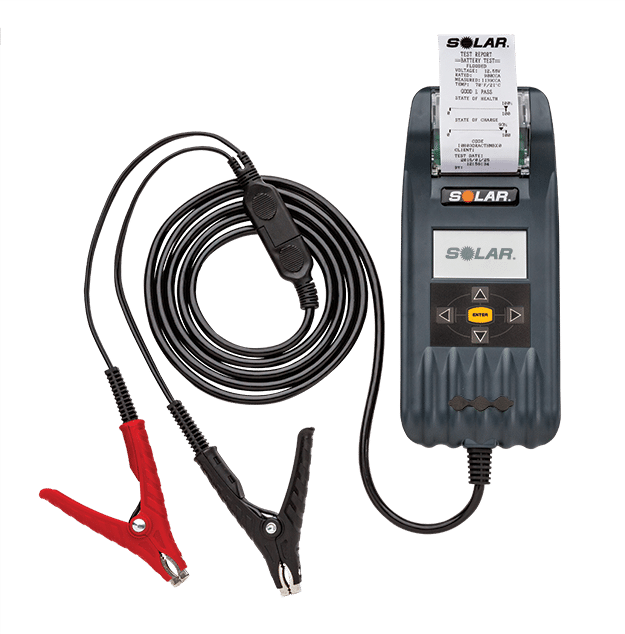 The BA427 has a wide operating range of 1.5-30V, which has numerous benefits. It allows the tester to effectively assess the health of both 6 and 12 volt lead acid batteries. Testable battery types include Flooded, AGM, Spiral Wound, Gel Cell, Start-Stop AGM and Start-Stop Enhanced Flooded batteries up to 3000 CCA capacity. It also allows the tester to accurately test severely discharged batteries, a key benefit versus carbon pile testing solutions. Finally, the tester's wide range allows it to effectively assess 24V charging systems.
Starting system performance assessment is as easy as connecting the tester and starting the vehicle. The tester records the lowest voltage level reached by the battery during the starting event and provides an assessment based on that reading. Charging system assessment is composed of several criteria, including alternator output without load, alternator output under load and ripple voltage detected. Again, an assessment is provided based the levels observed.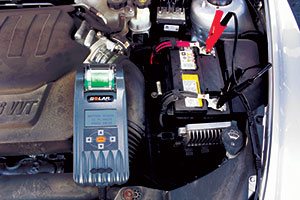 The BA427 has the ability to interface with an optional 600A amp clamp (BAA8) and optional volt probe (BAA7) for expanded diagnostic capability. The amp clamp features a 29mm opening, allowing it to clamp over large gauge cables, such as the battery positive cable. It is CAT-III/600V certified and connects to the BA427 via a standard port on the front of the unit, allowing it to interface with other electronic equipment, including most DMMs and scopes. The volt probe accessory can be used to take voltage readings throughout the vehicle electrical system, including voltage readings from specific locations within circuits or from specific components within the system. It is also useful for voltage drop testing. It is small and compact, allowing it to get into hard-to-reach areas. It has two termination options (a pointed tip and a banana clip) that connect to the BA427 via a standard port on the front of the unit. Like the BAA8, it can be used to interface with other electronic equipment, including most DMMs and scopes.
The BA427 also incorporates numerous features to increases its effectiveness and convenience. It utilizes a direct temperature acquisition routine from the tested battery for greater testing precision. It features 10'cable leads for extra-long reach, allowing the operator to run all tests from the driver's seat on most passenger vehicles. Finally, it features a USB outlet and connector cable with battery management software (PC) for easy tracking of battery health over time. The software is especially useful in fleet maintenance settings, where the same vehicles are tested repeatedly over a period of time.
Fast, Effective Diagnosis… with