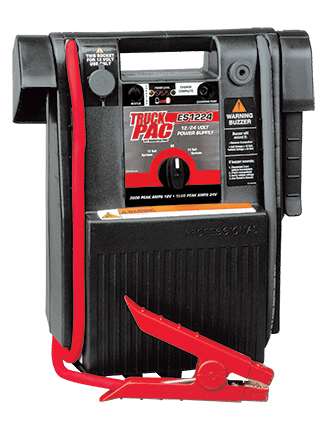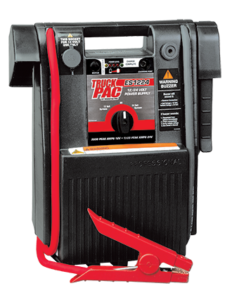 When it comes to heavy-duty portable jump starters, it's really hard to beat the OG of the category, the Truck PAC ES1224 12/24 Volt 3000 Peak Amp Jump Starter. It packs a serious punch, allowing you to start what doesn't want to be started, no matter the temperature. Plus, with 12 and 24 Volt operation, it brings versatility to shops and fleets that service a wide variety of heavy-duty vehicles.
Model ES1224 features dual ES Series batteries specifically developed for vehicle jump starting applications. These specially designed batteries deliver high output current, extended cranking power, numerous jumps per charge and a long service life. Delivering 3000 Peak Amps and 750 Cranking Amps in 12 Volt mode, it can tackle the very toughest starting tasks, from automotive and marine to fleet and agricultural applications.
Don't be fooled by the numbers game. Lots of products throw out undefined and arbitrary numbers in a chase to the highest amp ratings. The problem comes when you start to ask what that rating means. Often, the question can't be answered. This is not true with Booster PAC, Truck PAC and Jump-N-Carry jump starters – all of our ratings, especially Cranking Amps, are industry-defined terms and we stand behind them and can prove that we meet (or exceed) the ratings we apply to each product
Everything about the ES1224's construction is specified to support the goal of delivering massive power, including features like its #2 AWG welding cable leads for maximum power transfer, its Industrial Grade HotJaw™ clamps to penetrate corrosion on battery terminals and our exclusive AWS – Advanced Warning System™, which alerts the operator to a variety of unsafe jump starting conditions with its audible warning buzzer. No corners are cut when it comes to bringing the power, time after time. That's what customers have come to expect from Truck PAC.
For heavy-duty jump starting, you can rely on Truck PAC.