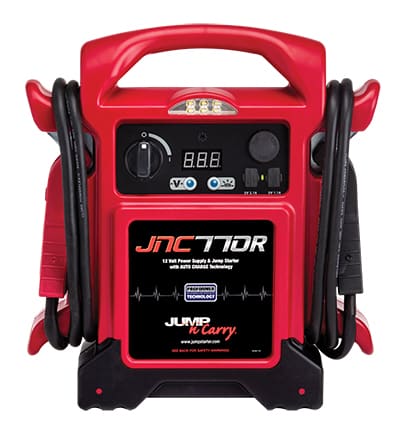 "Since 2009, this is only my 3rd JNC unit. Each has lasted me 6 years with constant use. But, this time I purchased the JNC770R model. I didn't realize it had longer cables. I broke my wrist in February 2021. I bought a Gooloo 4000 because I needed something lighter. Going off of the positive reviews, I went for it. That thing couldn't even start a V6 Camaro.
Thank goodness I had purchased a JNC1224 a couple of months prior, to get me out of that mess. I just received my new JNC770R and it arrived fully charged with 2 charging cords, including one I could plug into my cigarette lighter. 
Right after getting my JNC770R, what call do I get that I rarely get? Yep, you guessed it – a 2-battery 7.3 liter diesel, totally dead. I normally would go with the JNC1224, but I went with the JNC770R and it fired right up! The guy was so impressed with the jump box, he got on his Amazon account and purchased both the JNC1224 for himself and the JNC770R for his wife! Now, can I get a commission, Lol?
You guys make my company look good! Thank you!"
George
Advantage Towing
Seattle, WA