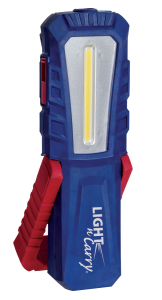 We are happy to introduce our new line of Light-N-Carry work lights, which includes three models: LNC1541, LNC1341 and LNC1241. Light-N-Carry rechargeable work lights are great for the tech that needs a light that is reliable, tough and compact. They feature advanced COB LED technology for clean, bright and long lasting illumination.
Model LNC1541 is a 500 max lumen rechargeable COB LED work light. It features multiple working modes, including 2 work light modes, 500 lumen and 150 lumen, and a 60 lumen SMD focus beam mode. It can run up to 4 hours in the high work light setting before needing to be recharged. It utilizes an easy-to use microUSB charging port and comes complete with a 2 amp wall charger and braided charging cable.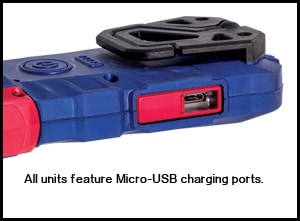 The LNC1541 is rated to IP54 ingress protection against dust and water, making it splash-proof, and features a 5 foot impact resistance rating. Its chemical resistant GRIP-TECH housing will stand up in tough garage environments. Its 180˚ swivel handle allows easy adjustment and incorporates a powerful mounting magnet to provide stability wherever it is placed. Also, it features a mounting hook and belt clip for ideal positioning and easy mobility. For more information, click here.