This month, we are featuring a guest article from Tanner Brandt. Tanner is the owner of Tanner's Auto Clinic, a mobile diagnostic and programming business. He also teaches for CARQUEST Technical Institute and Worldpac Technical Institute and is a guest contributor to VehicleServicePros.com. "Helping to better the automotive industry through training and networking is a passion of mine, and I enjoy sharing that passion with my students," says Brandt.
Vehicles on the road today are packed with sophisticated technology, sometimes incorporating more than 2 dozen computers. It's no secret that, because of this, repair procedures have changed drastically over the last 15 years. With more modules onboard as well as more complex communication systems, the repair and replacement procedure for these on-board computer modules has also changed. Whether you are replacing an engine control module for a drivability problem, a body control module for a lighting problem or a blind spot detection module after an accident, you are going to have to program the module after it is installed. Sometimes you are required to load an updated flash file to fix a customer complaint, such as a transmission shifting concern or a heated steering wheel problem on a Jeep. Who would have thought that one day we would have customers complaining that their steering wheel won't keep their hands warm? What's even more interesting is that many of these complaints can be fixed without doing any mechanical repair!
When it comes time to program or update a control module, there are a few steps that we need to take. First, we need to consult service information or the document that informed us that an update was needed. Let's look at a Service Bulletin for a 2016-2017 Jeep Grand Cherokee to see why it's important to read the documents first.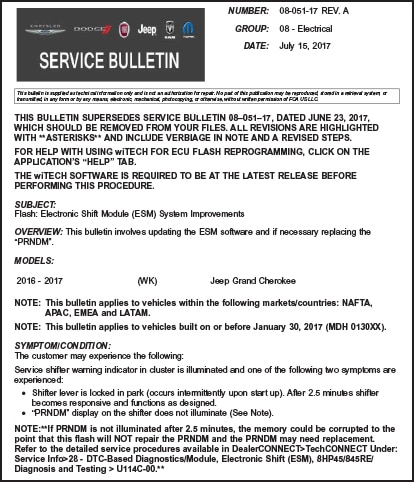 This bulletin begins by explaining that the customer may experience a problem where the shift lever is locked in park upon start up and will not release until the vehicle has run for 2.5 minutes. At that point, the shifter will become responsive again. The fix is to update the Electronic Shift Module. The bulletin also states that, in some cases, the ESM may need to be replaced. If replaced, it will still need to be programmed.
The second page of this bulletin also has some very important information that pertains to the set up of your equipment needed prior to performing the update. The bulletin mentions that a battery charger needs to be installed and voltage needs to stay above 13.2 volts but cannot go above 13.5 volts during the flash process. That's a small voltage range and requires a battery power supply that can be manually programmed for a specific voltage. After the flash is performed, you must wait 2.5 minutes for the shifter to upgrade PRNDM software.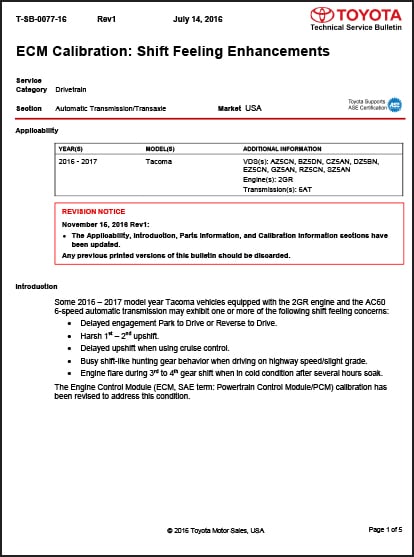 Let's look at another common customer complaint on the 2016-2017 Toyota Tacoma with 2GR 3.5 engine. Customers may complain about a variety of symptoms, like a harsh 1st-2nd upshift, delayed upshift when using cruise control, busy shift-like hunting gear behavior or engine flare when shifting from 3rd to 4th. All of these conditions can be fixed by nothing more than a programming update. On the last page of this TSB, you can see there are also some important notes about procedures.
Toyota calls for their GR8 battery diagnostic station to be installed and it MUST be used in power supply mode to maintain a battery voltage of 13.5 volts. The GR8 is a massive battery charger on wheels that in my time with Toyota was affectionately referred to as R2D2 by the technicians. After the programming is completed, all that's needed is a test drive to verify the complaints have been rectified.
Now let's look at the changes to general repair and collision when it comes to vehicle programming. Almost any time a vehicle is involved in an accident, the repair is going to involve replacement of a module that will require programming. Whether it's a computer that has to do with the engine, the airbag system or one of the various driver assistance features found on today's vehicles, there are very good odds programming will need to be performed.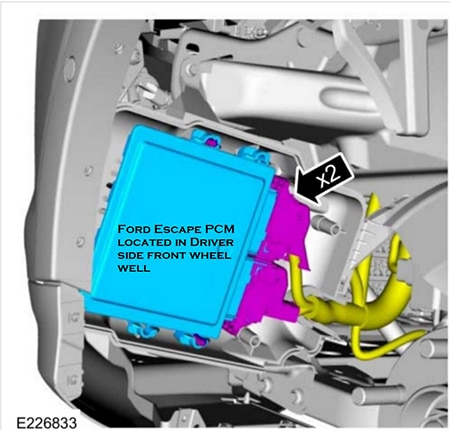 Let's look at one possibility on the repair side. On a 2017 Ford Escape, as well as several model years prior, the Powertrain Control Module is in the LF wheel well just behind the front bumper and directly in front of the left front wheel. This is a prime location to get hit during an accident. If the PCM is damaged, after it is replaced, it must be programmed using Ford's programmable module installation procedure. Ford has some interesting steps that must be followed when this is done.
To summarize this article, the battery charger MUST be able to maintain 13 volts and MUST be connected correctly to avoid problems caused by the vehicle's load shedding feature. The power supply charger's positive lead is connected to the positive battery terminal, but the chargers negative lead MUST be connected to vehicle chassis or engine ground (not to the battery terminal). If the battery charger is not connected properly, load shedding may occur and module programming may be corrupted. The same procedure must be followed when jump starting.
Lastly, let's talk about ADAS and what changes this brings to the arena when it comes to vehicle repair. Every module associated with a vehicle's driver assist system either has some type of programming or calibration that must be done when a component is replaced. I recently was called out to a shop to program a Side Obstacle Detection Module on a Ford Escape. Although this module does not require aiming or set up using some of the ADAS targets, you may have recently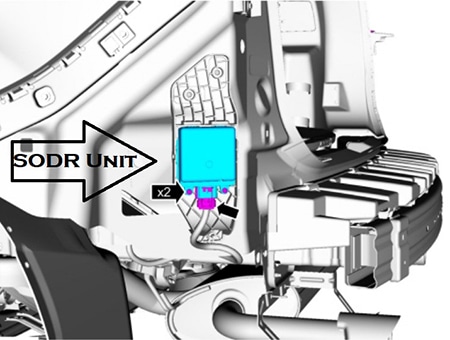 read about it still requiring a programmable module installation to be performed. The vehicle had been hit in the right rear and the side obstacle detection right (SODR) had been damaged. I was called out to the body shop to perform the programming after they finished assembling the vehicle. It is important to remember that, on this vehicle, the same steps must be followed as mentioned earlier when hooking up the power supply charger. After the programming was performed, the system was tested for functionality and the vehicle was returned to the customer.
As you can see, the above examples cite some of the most popular vehicles on the road. Grand Cherokee, Tacoma, Escape. These vehicles are neither high end nor exotic. In 2017, US sales of each model referenced was 308,296 for the Ford Escape, 240,696 for the Jeep Grand Cherokee and 198,124 for the Toyota Tacoma. A total of 600,000 vehicles for which common repairs include (and sometimes are exclusively) module reprogramming of some sort. The need for reprogramming grows with each model year and is unlikely to retreat anytime soon.
Achieving an Optimal Reprogramming Environment is Easy with PRO-LOGIX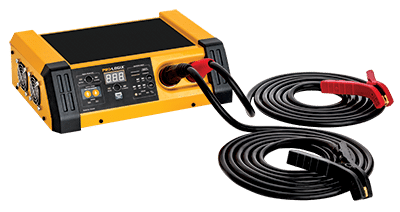 The PRO-LOGIX PL6100 Flashing Power Supply / Charger is designed to provide stable power, on demand up to 100 amps, to vehicle electrical systems in support of module reprogramming. In power supply mode, the PL6100 provides power to maintain vehicle electrical system voltage at a preset level, increasing its output in response to system load increases to maintain a stable power environment for successfully reprogramming. It features a voltage output range of 13.1-14.9V, adjustable in 0.1V increments, allowing the operator to dial the output in exactly as specified by the supplier of the vehicle under service. It features fast load responsiveness for ultra-quick recovery from system demand increases. It also delivers its massive power with minimal (<100mV) voltage ripple, providing a clean flow of power to the vehicle without risk of programming interference.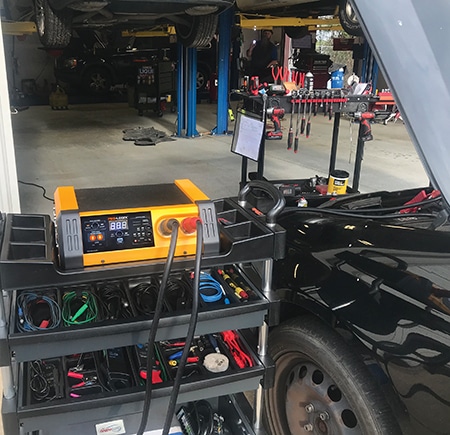 It also provides full service battery charging capability from 10 to 60 amps, to service everything from small vehicle batteries to Group 31 batteries. In charging mode, the PL6100 utilizes advanced microprocessor-controlled logic to precisely deliver a fully automatic charging routine designed to optimally charge and maintain each battery or battery pack serviced. It features the ability to properly charge a wide variety of battery types, including Conventional, AGM, Spiral Wound, Start-Stop, Deep Cycle and Marine batteries – for virtually any lead acid battery type installed in a vehicle, the PL6100 can deliver a proper, beneficial charge.
The PL6100 adapts its charging approach based on the needs of each battery or battery pack it services. Such adaptations can include activating a soft start mode on deeply discharged batteries, a battery repair mode on older/distressed batteries and temperature compensation when charging in extreme temperatures. It also incorporates numerous features to make charging safer for the operator and the vehicle/battery being charged, including over-voltage protection, reverse polarity protection, smart clamp technology and battery fault detection.