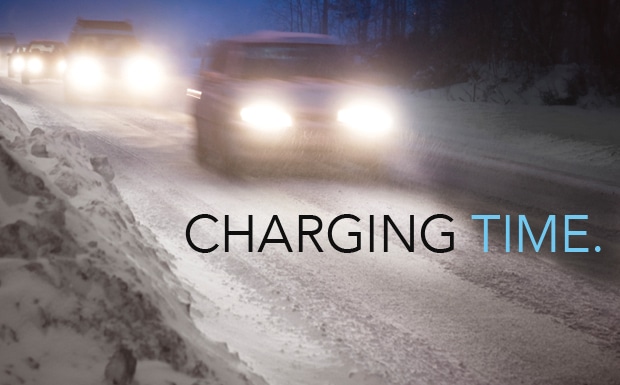 As the winter cold moves in throughout North America, at Clore Automotive, our thoughts turn to battery maintenance and battery health. Whether it is used in long term storage charging, preventive maintenance charging or as a reaction to battery trouble, a battery charger can be invaluable in the effort to keep your vehicle on the road. In this article, we introduce a few of our battery charging products, accompanied by helpful videos and a few tips to help keep your charging routines on track.
Whether you experience extreme hot temperatures, extreme cold temperatures or a combination of the two during the year, a good battery charger can help to counteract the damage inflicted by mother nature on your vehicle's battery. As we have noted previously, extremely hot weather is actually more damaging to vehicle batteries than cold weather. In temperature extremes, it is critical to keep your vehicle's battery fully charged, even if the vehicle is not in regular use. Also, seasonal use vehicles in storage should be charged regularly or continuously to support battery health. Finally, even batteries in regularly used vehicles benefit from periodic maintenance charging by a quality battery charger.
We are often asked, "What battery charger is right for me?" The specific answer to this question is going to be different for each person based on their usage patterns, the vehicles to be charged and their charging goals (speed, versatility, precision, durability, etc.). The best news for prospective charger purchasers is that things have gotten much less complicated in the last few years. The increased popularity of new battery types, which required more sophisticated charging than the old-style flooded battery, have raised the minimum standard for chargers, eliminating the most basic chargers from the marketplace.
At a minimum, any charger you purchase should have these features:
– Fully automatic operation
– The ability to properly charge newer battery types, such as AGM
– Specific setting for the types of batteries you have, such as AGM, Flooded, Gel Cell, etc.
– Maintenance mode to maintain battery after full charge has been reached
For the home garage battery charger users, we created the CHARGE IT! 4500 Series battery charger offering. They are designed for everyone from the occasional user to the serious weekend warrior who is wrenching regularly. These three models feature all of the above noted capability, plus easy, intuitive operation, useful displays to monitor charging progress, reverse polarity protection, battery fault detection and integrated cable and clamp management for easy storage. Here's a quick clip on the 4500 Series:

With models ranging from 6 Amp to 20 Amp, there's a 4500 Series charger for just about every charging scenario, whether you are charging large vehicles, small vehicles or a combination of different vehicle types. A great feature found in our 4500 Series (and all of our battery charging products) is the ability to force the charger to commence charging even on a severely depleted battery, avoiding the dead battery dilemma experienced by many smart chargers.
For professional battery charger users, or home garage users who want a premium feature-laden charger, we offer the PRO-LOGIX Series of battery chargers. This series is designed for continuous professional use, with numerous feature enhancements to dial in an even more precise charge. Like the 4500 Series, PRO-LOGIX (PL2310/PL2320) chargers offer fully automatic operation, properly charge all lead acid battery types, feature integrate cable/clamp storage and utilize a data-rich display that provides extensive feedback throughout the charging process.
PRO-LOGIX chargers kick it up a notch, though, compared to the 4500 Series. They add numerous features needed by today's busy shops, including temperature compensation, thermally activated fan control, enhanced componentry and a more sophisticated maintenance mode for long term storage charging, as might be seen in body shops/collision repair centers.

There are additional PRO-LOGIX models available that add engine starting assistance, as well as wheeled models that deliver rates of charge up to 60 Amp as well as the ability to service 24 Volt batteries and systems.
When it comes to battery chargers, there are many choices out there. The most important suggestions we can make regarding the purchase of one is to be sure that the one you choose features automatic operation, that it is a "smart" (read: microprocessor controlled) charger and that it has specific settings for multiple battery types, specifically including AGM. While you may not have an AGM battery in your vehicle today, you are likely to have one in the future, and you shouldn't have to purchase a new charger to service it.