In this month's spotlight, James from Florida provides a tip related to determining the root cause of parasitic drains resulting from modules awakening while vehicle is off (KOEO). As he points out, if you come back to the vehicle to find multiple modules awake, the trick is to figure out which one activated first.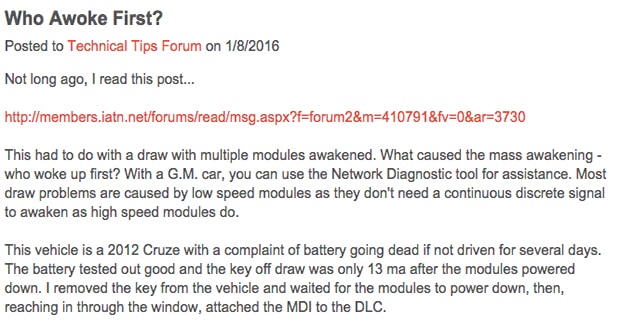 Parasitic draws are a hot topic in our articles and on iATN. As electrical systems continue to grow in complexity, tricks like the one James has outlined become critical in the quest for quick, efficient diagnostic routines that effectively solve these types of issues. Great tip James!
To see the original post at www.iATN.net, click on the above screen shot or click here . To access additional forum posts or participate in the discussion requires a membership with the site. There are several membership options available, about which you can learn more here.
About iATN
The International Automotive Technicians Network is the largest network of automotive repair professionals in the world: a group of 80,000+ automotive professionals from over 160 countries. The members of this group exchange technical knowledge with their peers around the globe, sharing 1.8 million years of experience. iATN has been proudly serving the automotive service and repair industry and the needs of professional automotive mechanics around the world, for over 15 years.