Although my son is five years removed from participating in Boys Scouts, I still assist his troop with issues related to power and battery management. It's a big troop and they bring lots of scouters to each campout, especially their large summer camp experience in the Ozarks. Often, they have limited access to AC power and face challenges to power the equipment needed to keep 150 scouters and 50+ parents going for 8-9 days.
As I worked with them this week to determine their power needs for 2023, we kept coming back to the need to charge multiple 12V batteries daily to run everything from laptops and AV equipment to popcorn poppers and smokers. Of course, these discussions also involved their needs related to power inverters (more on this in a future article), but this week's topic was charging. And, no matter where we started, we always ended up in the same place – the PRO-LOGIX PL4050.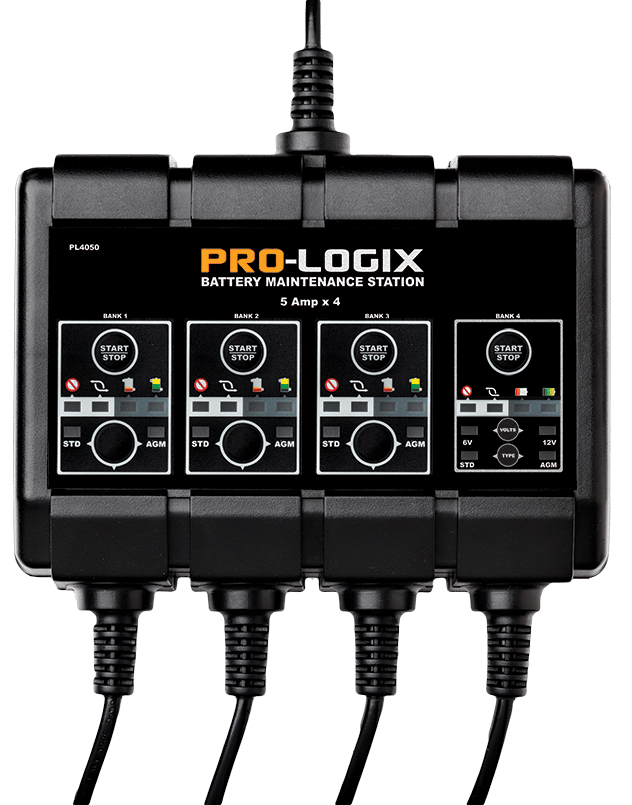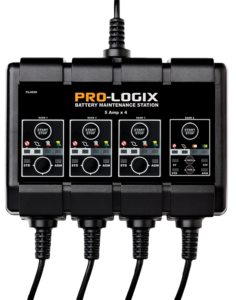 That's because the PL4050 does many different things and does them very well. This Battery Maintenance Station can charge and maintain four batteries simultaneously, with each battery serviced independently. This is great because it means that a problem battery on one channel cannot adversely impact the other batteries under service. Also, it means that each channel can be programmed for the specific battery type being serviced, whether the battery is a flooded construction (Flooded, Maintenance-Free Flooded, Deep Cycle Flooded, EFB) or and AGM construction (AGM, Spiral Wound, Deep Cycle AGM, Start-Stop AGM).
With 5A per channel power output, it can make quick work of bringing even large batteries to full charge. This is important when, like the above camping example, time on the charger is limited and you need to charge quickly and efficiently. In addition, on this model, channel four provides either 6 or 12 Volt charging and maintaining (the other channels are 12V only). This versatility can make a huge difference if your battery population is made up of widely different batteries.
Lastly, the battery maintenance mode on PRO-LOGIX chargers is enhanced to deliver exceptional long term storage charging, improving battery reserve capacity and extending battery life. This is critical in situations such as the one outlined above. These batteries are used only 40 or so days per year. Keeping them maintained using the PL4050 during periods on non-use will allow the troop to achieve a much longer service life from them than if they weren't maintained. This saves money in the long term and also ensure that the batteries, when needed, are ready for service.
A real problem solver – that's the PL4050 from PRO-LOGIX.