It's that time of year. You put your seasonal toys away for the winter and hope that things will go well when you bring them back into service when the snow melts. But, what about the batteries in those toys – will they be ready to answer the call? They definitely will be if you're using PRO-LOGIX battery charger/maintainer products.
The point of battery maintenance is to keep your batteries in good shape while they are not being used, so they are ready when you next want to fire up your favorite toy. In addition, the bigger goal is to get longer life from your batteries, so you maximize your investment and save money in the long run. Every aspect of the PRO-LOGIX approach to battery maintenance is designed to improve battery health, increase reserve capacity and enable vehicle owners to get more from their battery investment.
With automatic operation, temperature compensation, sophisticated maintenance routines and sealed cases for long life, PRO-LOGIX battery maintenance products bring effectiveness and efficiency to the task of keeping your batteries healthy and ready to go. Here are three options to consider as you tackle this task.
PL2140 – 6/12V 4A Battery Charger/Maintainer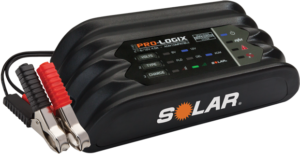 Combining fully automatic operation and the ability to properly charge multiple battery types, the PRO-LOGIX PL2140 is the perfect battery maintainer to manage all of the batteries in your life. Intelligent, beneficial, safe and versatile – one charger does it all, from periodic charging and battery repair to battery maintenance and long term storage charging. Super versatile, it properly charges Flooded, AGM, Spiral Wound, Deep Cycle, Marine and LiFePO4 lithium batteries. Plus, it comes with three output options (clamps, rings, 12V plug), so vehicle/battery connections are a breeze.
PL4020 – 12V 4x2A Battery Maintenance Station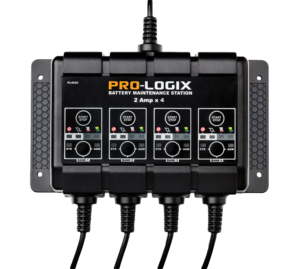 Model PL4020 features four independent output channels designed to properly charge Flooded, AGM, Spiral Wound, Deep Cycle and Marine batteries. Because each output is independent of the others, a troublesome battery on one channel does not create problems for the other channels. Advanced charging logic, robust components, quick set-up and smart display feedback mean effective and efficient charging for your batteries.
PL4050 – 6/12V 4x5A Battery Maintenance Station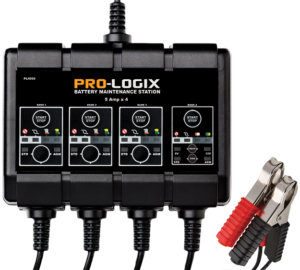 Like the PL4020, Model PL4050 features four independent output channels designed to properly charge Flooded, AGM, Spiral Wound, Deep Cycle and Marine batteries. It has two main differences: it adds a 6/12V channel to allow servicing of 6V batteries and boosts the power per channel from 2A (PL4020) to 5A per channel on this model. So, if you are managing larger batteries, the PL4050 is a great option. It includes four sets of standard length clamp outputs, same as the PL4020..
Keeping your batteries maintained during the offseason can save lots of money, as it enables you to get longer life from your battery investment. Imagine getting an extra season or two from every battery in your life. It is very possible to do so if your batteries are properly maintained, especially during the offseason storage period