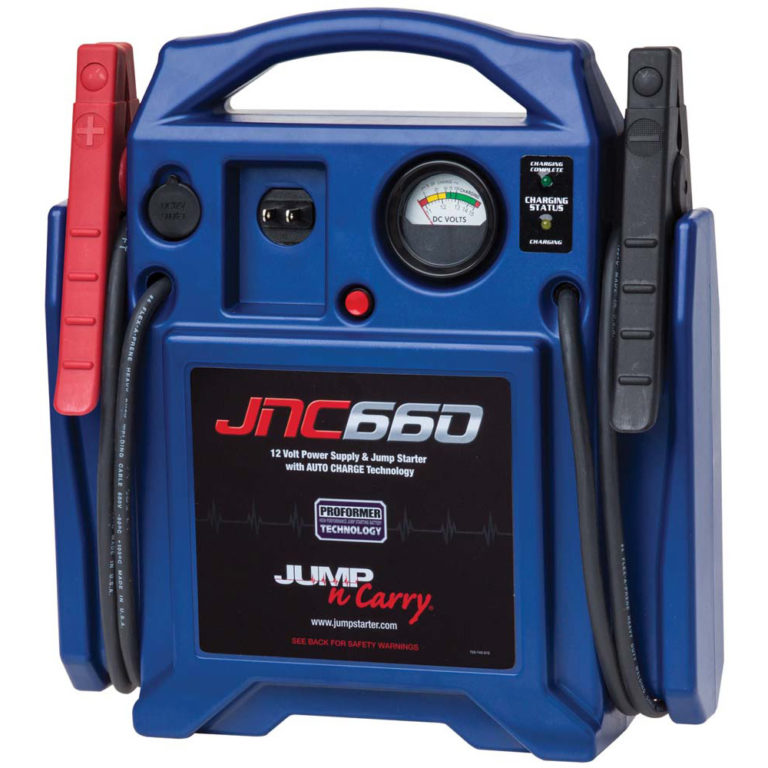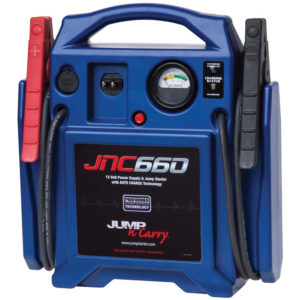 "After flogging one of your JNC660s daily at a used car lot, I bought one for my personal shop in 2014. They're an industry classic for good reason. I use it without a car battery to move vehicles around the yard, for component testing, to charge my phone and notebook PC during power outages (via a fast USB charger plugged into the power point) and of course as a jump pack for my personal truck, motorcycle and other engines. I take it truck camping at swap meets to run LED lights. 
I prefer the JNC660 because it is elegantly simple, without excessive components to break or increase resistance (I'm a retired USAF avionics tech). It starts Harley big twins without fuss and they're particularly hard on batteries. It's more than paid for itself by replacing my riding mower battery since 2014 and, if I didn't use it so frequently elsewhere, I'd have made a mount to store it on the mower.
An important detail is the male charging plug because it doesn't fold (and fail early ….) like some other chargers. Another bonus for professional use is not having a (pointless in that application) on-off switch. The JNC660 is a serious tool and my usual recommendation to anyone wanting a durable, reliable jump pack to serve them for years.

That's not to deride other Clore packs (their power switches may better suit owners who leave them loose in trunks, etc.) but please keep making the JNC660, as it fits its niche perfectly and is handy around any shop or home. If this one ever manages to die, I'll immediately order another.
Mark – Sumter, SC
Ed. Note: Here's Mark's comment (which we love) about the photo he sent in:
Here's a picture with example accessories (selfies are boring but tech is cool) in my military pack, which fits the JNC660 almost perfectly. I tuck the cables into the center pocket in opposing directions so the clips never touch and have room for small tools elsewhere. In the field (salvage yards, etc.), I clip to the straps or fabric for faster access. The flat JNC660 carries easily in dirt cheap, rugged milsurp packs, leaving your hands free to carry other equipment. Pack shown pulled open to display the JNC660, but you could pose a similar setup with prettier gear and flaps tucked neatly. Splitter and phone charger (I prefer those with digital voltage displays) keeps my phone and tablet charged during outages and charges cheap rechargeable LED headlamps I love for task lighting. I consider all my equipment as a system, since I'm lazy and it saves considerable effort.