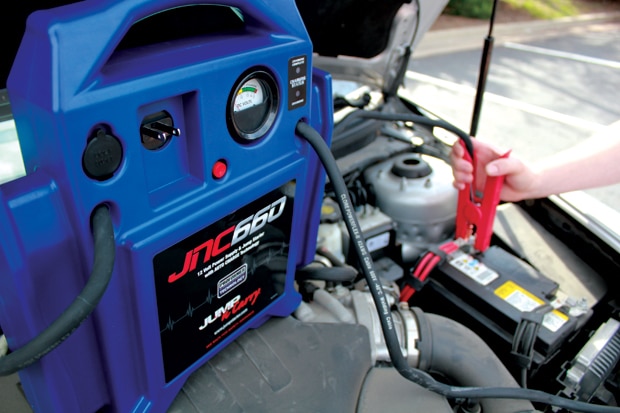 "I am a female resident of NYC and there have been numerous instances when I had to call AAA to boost a dead battery. In my area of NYC, it usually takes at least 90 minutes for AAA to arrive. So I purchased the JNC660 in November 2013, and wondered whether it would work when I needed it. It sat in my trunk for the next 8 months during one of the coldest winters in recent NYC history. Although I signed up for Clore's 90-day recharge reminders, I ignored them.
Then one morning in late July 2014, I got into my 2003 Chevy Malibu to go to work and it wouldn't start. But unlike previous times when impending car battery death began with dim dash lights, the need to make repeated attempts before the car started, and a dash clock that still worked, this time my battery had a sudden and complete death. Not only were all the dash lights out, there wasn't even enough power to keep the dashboard clock going, which was evident after I boosted the car and the clock reset to 12:00.
I'm a college professor and I was on my way to campus to give a 9am exam so a late arrival was not an option, which would have been inevitable had I called AAA. So I lugged my still unproven JNC660 out of the trunk and checked the charge percentage gauge. Despite never recharging it after a very cold winter it was still fully charged. So I connected it to my dead battery and hoped for the best. It started my car immediately on the first attempt! Then it started my car a second time when I left work, and a third time when I was forced to stop for gas on the way to my local mechanic. Amazingly, even after boosting my car 3 times, the charge percentage gauge was still in the green zone!. But rest assured, the minute I got home I recharged my trusty JNC660.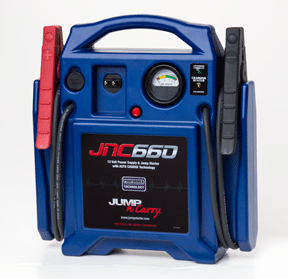 Without the JNC660, I would have been forced to call AAA for a boost. With AAA's one roadside service call per incident policy, that would have meant canceling my exam and going directly to my mechanic rather than to campus. This is the first time a dead battery did not completely disrupt my entire day. Thanks to the JNC660, the only disruption was the 2 minutes it took to hook up the cables and turn the ignition key, a very simple process even for this female who never boosted a car prior to this. But more importantly, as a female, it is very reassuring to know that a dead battery will never leave me stranded anywhere for more than 2 minutes.
When my mechanic was changing the battery, he noticed the JNC660 sitting in my car, and made a comment about how this professional grade jump starter that I purchased was "overkill" for someone like me who won't need it very often. What he calls overkill I call over-protection, and you can never have enough of that. Thanks Clore!"
Toni
New York, NY