This month, we thought we'd take a look at a few key trends facing our industry and the implications of those trends for aftermarket service providers. All three of these trends have the potential to impact the shape, size and nature of aftermarket service opportunities, potentially in a large way. Service operations will need to adjust to each to be successful in the coming years.
Telematics – The Next Big Thing?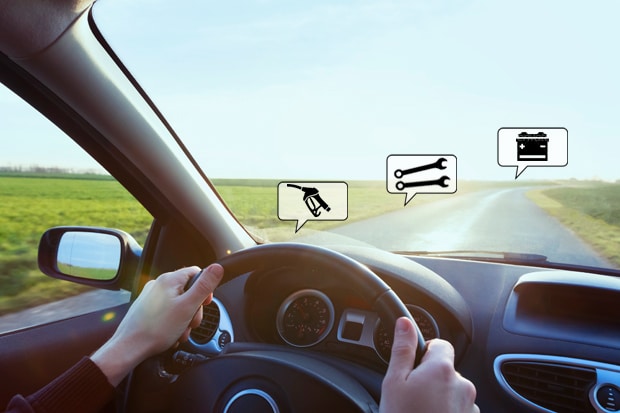 Attending last week's Automechanika Chicago industry event, it was clear that one of the hottest topics in the industry is telematics and the connected car. While telematics technologies have been in place for some time for fleet management, vehicle location services and insurance deployments, it appears to be reaching critical mass in the aftermarket / aftersales repair side of the industry.
Here is a definition of telematics from Gartner Research:
"Telematics refers to the use of wireless devices and "black box" technologies to transmit data in real time back to an organization. Typically, it's used in the context of automobiles, whereby installed or after-factory boxes collect and transmit data on vehicle use, maintenance requirements or automotive servicing. Telematics can also provide real-time information on air bag deployments or car crashes and locate stolen vehicles by using GPS technology. In addition, telematics can serve as the platform for usage-based insurance, pay-per-use insurance, pay as you drive (PAYD) insurance, pay how you drive (PHYD) programs for fleet insurance, or teen driving programs for retail business."
They likely will be updating that definition shortly to reflect the growing deployment of connected car systems by automotive OEMs and aftermarket providers designed to provide specific feedback related to vehicle problems, needed repairs and scheduled maintenance. Numerous OEMs are already utilizing such systems. Here's an explanation of how BMW utilizes telematics related to vehicle service and repair: "BMW TeleServices monitors the condition of key wearing parts like brake pads or engine oil and, if required, even contacts your BMW Service Centre automatically to arrange a service."
This technology has grown so much in recent years that Edmunds publishes a chart identifying the capabilities and features of major OEM telematics deployments.
What you'll notice here is that only about half of the systems covered feature Vehicle Diagnostics data, with some of those being limited in scope. We can expect that to change drastically over the next few years.
In addition, many new telematics solutions are being offered, with varying degrees of comprehensiveness, as aftermarket solutions. This was a big topic of the PTEN Tool and Equipment Roundtable at Automechanika, in which several industry veterans weighed in on topics related to aftermarket service and repair. The general consensus was that shops will need to determine, over the next 2-3 years, how they will incorporate such solutions into their offering. We see aftermarket telematics as a potentially effective tool in the case of intermittent vehicle issue, where it is hard to replicate the customer's complaint at the time that the vehicle is in the shop. These technologies were seen as yet another way to increase closeness to the customer, eliminate waste and improve effectiveness, though concerns were raised regarding how the costs of such technologies will be borne out. For shop owners and technicians, this is definitely an area to watch.
The Customization Generation?
Another trend we see increasing in popularity is the idea of customizing vehicles to reflect the owner's personality, interest or self-image. Car ownership has always been seen as a means of self-expression. We all associate certain traits or commonalities to iconic vehicle makes and models, for instance Porshe, Corvette, Volvo and Prius. Drivers of these vehicles are likely saying something with their purchase and often observers make assumptions based on the make or model someone drives.
Here are a few quotes from media and research organizations:
"Consumers seem to be looking for ways to personalize everything they buy. It's not just picking apps for their phones, special touches for their shoes or music for their iPods, but down to customizing everything from mashed potatoes to drinking water." (LA Times)
"For many brands, offering a wide range of customizable products is key to attracting millennials." (VisionCritical.com)
"The look and feel of a customized product is important to members of this [Millenial] generation who are growing up in a society far more diverse and embracing of diversity than preceding generations." (Entrepeneur Magazine)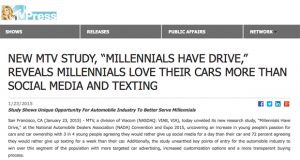 MTV recently published a study called "Millennials Have Drive," which looked specifically at how this generation incorporated car ownership into their lives. Here is one key takeaway from the study: "'I enjoy customizing the things I own and experiences I have to make them uniquely for me.' When specifically asked about cars, almost 3 in 4 (73 percent) agreed, 'it's important their car reflect who they are,' and 81 percent said they wish there were 'more affordable ways to customize my car.'"
One of the ways that this trend is likely to play out is in the area of aftermarket vehicle graphics. While it may not be economically feasible to order a graphically customized vehicle from the factory, it is becoming easier and less expensive to do so in the aftermarket, with many providers and solutions to choose from. And, it is likely that, if this trend really does catch on in a big way, it likely won't be confined to a single generation, but will find traction in all age groups.
Vehicle customization, whether it be in the area of vehicle graphics, vehicle modification or vehicle tuning, likely spells opportunity for those service operations that can tap into this trend and do so profitably and capably. It is definitely an area to watch.
Vehicle Age Sweet-Spot Changes
The last major trend is related to the changing face of the North American car park and the changing nature of the aftermarket service environment. The repair sweet-spot is being extended due to reduced new car sales over the last six years, the makeup of the vehicles in the repair sweet-spot is changing and there are fewer service bays to service these vehicles.
"The net result of fewer new vehicles sold (2008 through 2012), will be a shift in the upper age boundary of the aftermarket repair-age sweet-spot, reflecting the changing U.S. vehicle population and the annual mileage accumulated on these cars and light trucks." (Lang Report)
"Over the past 15 years, foreign nameplates doubled their share of sweet-spot age vehicles across the U.S. Lang Marketing projects foreign nameplates will control a majority of sweet-spot cars and light trucks by 2017, transforming the light vehicle aftermarket for years to come." (Lang Report)
"Despite the increase of cars and light trucks on U.S. roads over the past 15 years, the light vehicle service bay population in the U.S. steadily declined. Approximately 63,000 service bays were shuttered across the country from 1999 through 2014." (Lang Report)
All of these factors spell opportunity for those aftermarket service providers positioned to capitalize on these trends. The increase in foreign nameplate vehicles within the vehicle mix is very real and growing. The trend is overwhelming and service operations would do well to ensure they are in synch with these changes. In addition, as the repair-age sweet-spot continues to lengthen, service facilities and parts outlets will need to adjust to the realities of this change. Finally, because there are more vehicles in operation per bay than ever before, service operations need to determine what level of volume makes the most sense for their specific operation.