"I have a John Deere 4300 tractor, which I work on about 40 acres. I was cleaning up limbs from some wind damage with the grapple rake on the loader. I stopped to do some groundwork when I tried to start the tractor. Nothing happened.
I was walking back to the tractor shed to get my ES5000 when my wife asked if I needed a ride in her battery powered golf cart. I accepted and we came back to the tractor. I removed the grill to get to the battery, connected the red clamp to the positive cable lug on the battery and the black clamp to a bolt on the tractor frame. I tried to start the engine and it snapped to. I kept the ES5000 with me.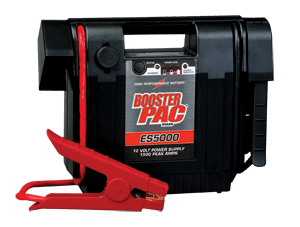 I shut the tractor down again later and, you guessed it, no start. I redid the starting procedure again. It started, so back to the tractor shed to investigate. I found the positive lug to the positive pole had corrosion between the lug and the positive pole. I also checked and cleaned the negative lug and pole.
The John Deere 4300 starts great now. I'm grateful I have the Booster PAC ES5000."
Alan
Kelso, WA