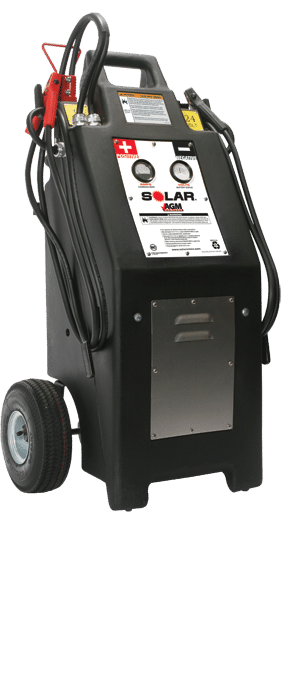 The new HT1224AGM, a 12/24V Commercial Jump Starter from SOLAR, utilizes two Group 31 AGM batteries to power its jump starting engine for all the power you need minus the hassles that come from using flooded batteries in a mobile solution.
The new model offers the same power as our standard HT1224 model – 1400CCA in 12V mode, 800CCA in 24V mode – to enable you to start everything from dump trucks to earth movers to over-the-road tractor-trailers. But, with AGM batteries installed, the HT1224AGM avoids the trouble that can arise if the unit is excessively tipped or knocked over in the service environment. The AGM batteries are completely sealed and will not leak, regardless of storage position.
An internal charger provides automatic operation and is optimized for AGM batteries, to keep the onboard batteries in top condition throughout the life of the unit. 10' cable leads, made of 1/0 welding cable, enable it to reach the starting points on vehicles of all shapes and sizes. Its pneumatic wheels provide easy transport over all surface types.
The power to start what doesn't want to be started… SOLAR.