Winter really is coming. The weather has taken a decided turn throughout North America this week. Most of us have either put our toys into storage already or are about to do so. In many cases, these toys of ours have a battery or several batteries to power them. Quite literally, just about the worst thing you can do with those batteries is to let them sit discharging all winter. This can permanently deplete battery capacity to the point where it cannot be restored on future charges.
This is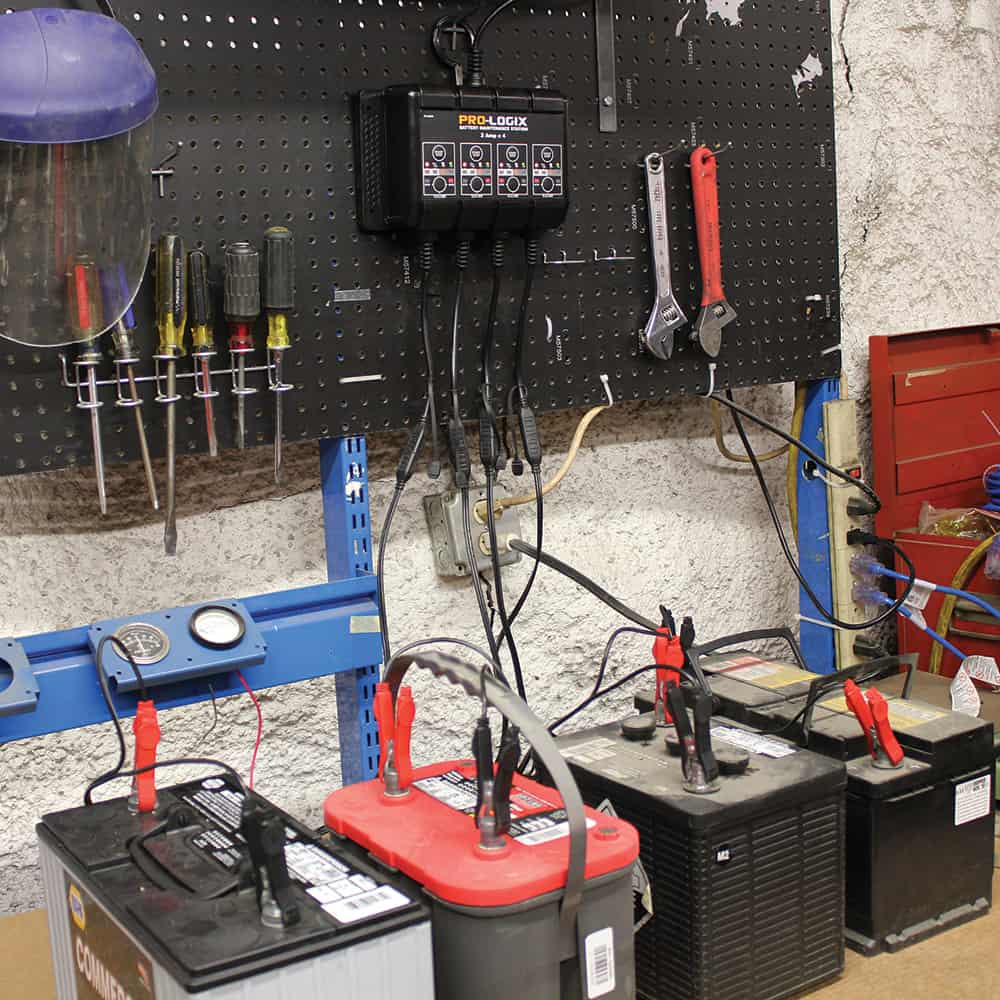 a fate that is easily avoided through the use of a battery charger/maintainer during offseason storage periods, such as our PL2112 and PL2140 models. These are great when you have just one battery to maintain through the winter. But, what if, like many of us, you have multiple batteries to maintain. You could, of course, simply purchase as many maintainers as you have batteries to keep charged. That can get messy, with the need for many power outlets and input cords everywhere.
When you have several batteries to keep charged through the offseason, the better option is to deploy a multi-bank charger/maintainer. This enables you to power several charging channels from a single power outlet. At Clore Automotive, we offer two PRO-LOGIX multibank charger/maintainers from SOLAR, the 12V / 4 Channel / 2A PL4020 and the 6/12V / 4 Channel / 5A Bank PL4050. Here are the details for each: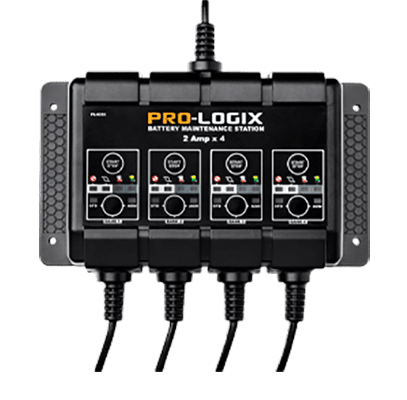 PL4020 – 12V 4x2A Battery Maintenance Station
Model PL4020 features 4 channel output with 2A charging on each. It's ideal if your battery mixture is primarily smaller powersport or lawn and garden batteries or a mix of these batteries and larger ones. It features four independent output channels, each capable of properly charging a wide variety of lead acid battery types, including Flooded, AGM, Spiral Wound, Deep Cycle and Marine batteries. Because each output is independent of the others, a troublesome battery on one channel does not create problems for the other channels. Like all PRO-LOGIX models, it features advanced charging logic, robust components, quick set-up and smart display feedback for quick, easy battery management. It includes four standard length clamp leads.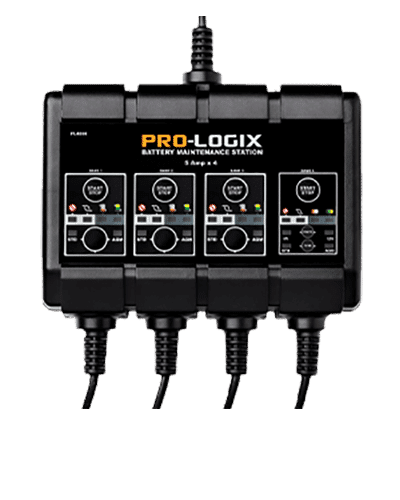 PL4050 – 6/12V 4x5A Battery Maintenance Station
Model PL4050 is a higher output model best suited for use where larger batteries make up most of the mix. Like the PL4020, Model PL4050 features four independent output channels designed and can properly charge the same battery types: Flooded, AGM, Spiral Wound, Deep Cycle and Marine batteries. It has two main aspects that make it different from the PL4050: it adds a single 6/12V channel to allow servicing of 6V batteries and it increases the power output to 5A per channel on this model. It also includes four sets of standard length clamp outputs.
Keeping your batteries maintained can save lots of money, as it enables you to get longer life from your battery investment. Imagine getting an extra season or two from every battery in your life. Keeping your batteries in good health also means fewer hassles in the spring, allowing you to put your toys back to work quicker and easier. And, when it comes to keeping your batteries in good health, you can't beat a PRO-LOGIX multibank charger/maintainer from SOLAR.