Start-Stop idle systems are increasingly prevalent in today's vehicles. As one of our referenced articles noted, 2015 was a tipping point for these systems in North America. By 2015, almost every vehicle manufacturer featured at least one model equipped with Start-Stop technology. Plus, in 2015, Start-Stop technology could be found in every segment of the market, from economy vehicles to performance vehicles and luxury models. The 2017 model year brings yet another major milestone, as several manufactures will offer this technology on greater than 50% of their models. What was once a technology reserved for hybrids and high end imports has now gone mainstream. As a result, Start-Stop systems were a key topic of conversation for us at the recent AAPEX Show. So, we thought we'd revisit it here and bring our readers current on its evolution.
Start-Stop Overview and Service Implications
In this article from Tomorrow's Technician, Larry Carley does a great job of recapping the evolution of these systems, quantifying the extent to which they have penetrated the North American market and explaining the service implications they bring with them. As he points out, system issues can fall into one of several areas. They can derive from electronic, electrical and/or communications/sensor issues. He outlines a logical plan of attack for identifying the source of issues/complaints, as well as notes key service precautions to take, depending on whether you are servicing a gasoline Start-Stop system or hybrid Start-Stop system. If you're in search of a good article that summarizes the key topic around Start-Stop for your shop personnel or customers, this is a great place to start (click the graphic below).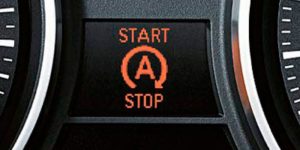 Ford Bets Big on Start-Stop
Ford has increasingly incorporated Start-Stop technology in its lineup since 2014. This has included a diverse range of models from its economical Focus to its flagship pickup, the F-150. Earlier this year, Ford announced "the expansion of its Auto Start-Stop technology across the entire lineup of EcoBoost-equipped 2017 F-150 pickups." This could be a watershed moment for the technology as it reaches critical mass in the US market. In addition, the article lists the Ford models that now feature Start-Stop systems:
Focus 1.0-liter EcoBoost
Fusion 1.5-liter EcoBoost
Edge 2.0-liter twin-scroll EcoBoost
 2017 Escape 1.5-liter EcoBoost
2017 Escape 2.0-liter twin-scroll EcoBoost
F-150 2.7-liter EcoBoost
2017 F-150 2.7-liter EcoBoost
3.5-liter EcoBoost
High-output 3.5-liter EcoBoost
To access the article, click the graphic below:
GM Also Features Widespread Adoption of Start-Stop Systems
Not to be outdone, GM is also busy incorporating Start-Stop systems into its offering across the board. GM projects that, by 2020, it expects to offer Start-Stop technology on at least one powertrain in each of its models. The expansion has already begun and includes nameplates as diverse as the Chevy Cobalt and the 2017 Chevy Camaro ZL1, expanding on and updating technology first found in the GM lineup in the Chevy Malibu. Beyond covering the expansion of this technology, the article does a good job addressing the economic and regulatory reasons why automakers are incorporating Start-Stop systems so rapidly into their fleets. To access the article, click the graphic below:
 Start-Stop and Increased Engine Wear
The below article, from Import Car, addresses one area of increased risk associated with Start-Stop systems, which is increased engine wear and premature wear-related failures. Although this article was written by a supplier/advertiser, it brings up several issues worth considering and that will likely need to be addressed in future system designs if these systems are to provide the longevity expected by today's vehicle owners. Here's the quote that caught our eye in this article: "An average passenger car engine is designed to withstand 20,000-40,000 starts over its normal service life. While starting the engine corresponds to only an infinitesimal fraction of the engine service life, it accounts for up to 75% of engine wear and wear-related failures! With start-stop technology, the number of engine starts gets a tenfold increase on average, which is exacerbated in city traffic."  To access the article, click the graphic below:


Vehicle Owners Not on the Start-Stop Bandwagon
We have spoken to many dealerships and service facilities that have recounted a general disdain for Start-Stop systems among vehicle owners, with many vehicle owners opting to disable these systems altogether where possible. Or, disabling Start-Stop each time they use their vehicle on those vehicles that do not allow a universal disable, such as Mercedes, as noted in this article. Clearly, if this article from The New York Times provides an accurate picture of US driver sentiment towards these systems, automakers have some work to do to make them more accepted. To access the article, click the graphic below:
As the above article notes, these system are here to stay. Their ability to improve vehicle fuel efficiency and reduce emissions is just too great of an attraction for automakers to slow their adoption. Like most systems advancements, new Start-Stop systems provide new service opportunities for repair facilities. To properly diagnose and repair these systems, it is important to have equipment optimized for them. PRO-LOGIX battery chargers from SOLAR properly charge all lead acid battery types, including the AGM and Start-Stop AGM batteries most commonly found in them. BA Series testers, including BA427, BA327 and BA9 models, incorporate Start-Stop AGM batteries and AGM batteries among their testable battery types. As always, a key component to service success is have the right tool for the job. With advanced battery chargers and testers from SOLAR, we've got you covered.