"I am a sole school bus mechanic working for the California Schools. I maintain 14 buses, plus white fleet, tractors, lift pump stations, etc. The school district I work for purchased an [expensive competitive] battery tester. This thing does it all, except it never seems to be accurate when it comes to doing what it is suppose to do. I turned it in after only two years of service to have it repaired. This was taking forever.
Being the only mechanic, I need something quick and reliable. I was at one of the parts vendors and they were having a sale on the SOLAR BA9. I thought, 'Well it doesn't look like much," but I needed something and, for the price, this was better than nothing.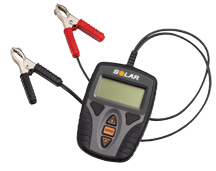 BOY WAS I WRONG! I no longer reach for the $1000+ tester. I had already replaced an 8D that was good because of the expensive, repaired tester right after I got it back. When it comes to the batteries, I grab the BA9 and off I go. My BA9 works flawlessly every time. I do not second guess this little tester.
Thank you very much."
Gary
Winterhaven, CA