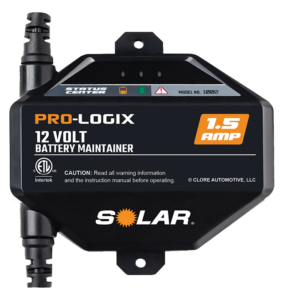 We are excited to share the details of our latest generation Model 1002, which has received an updated look and enhanced PRO-LOGIX capabilities. Model 1002 is a vehicle-installed (underhood) charger that is perfect for fleets of all sizes and any other application where the convenience of in-vehicle installation is desired.
Model 1002 combines fully automatic operation and the ability to properly maintain the different batteries found in today's cars, trucks, SUVs, delivery vehicles, ATVs, tractors, implements and more, including Flooded, AGM, Spiral Wound, Deep Cycle and Marine batteries.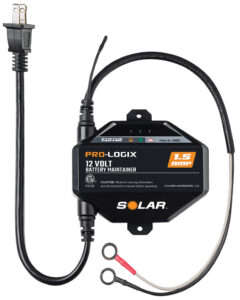 Incorporating proven PRO-LOGIX charging technology, Model 1002 utilizes advanced microprocessor-controlled logic to deliver a fully automatic, precisely controlled 1.5A routine that optimally charges and maintains each battery serviced. It adapts its approach based on the needs of each battery it services. Such adaptations can include activating a soft start mode on deeply discharged batteries, a battery repair mode on older/distressed batteries and temperature compensation to properly manage battery maintenance in extreme temperatures.
Designed for in-vehicle installation, it includes a battery mounting kit and features a sealed, weather-proof case design. With no buttons to press or controls to manage, simply connect an extension cord to its short input cord and the charger does the rest.
Beneficial battery management, ideal for busy fleets and agricultural operations. The new and enhanced 1002.
Charge Smart, Charge Safe