We are excited to introduce our new Model No. PL3740, a 12 Volt PRO-LOGIX Wheel Charger, from SOLAR. The PL3740 marries the best of old school unit control with advanced safety and the ability to properly charge today's AGM and Spiral lead acid batteries. It provides three operational modes for comprehensive service: battery charging mode, stable power mode and engine start assistance mode.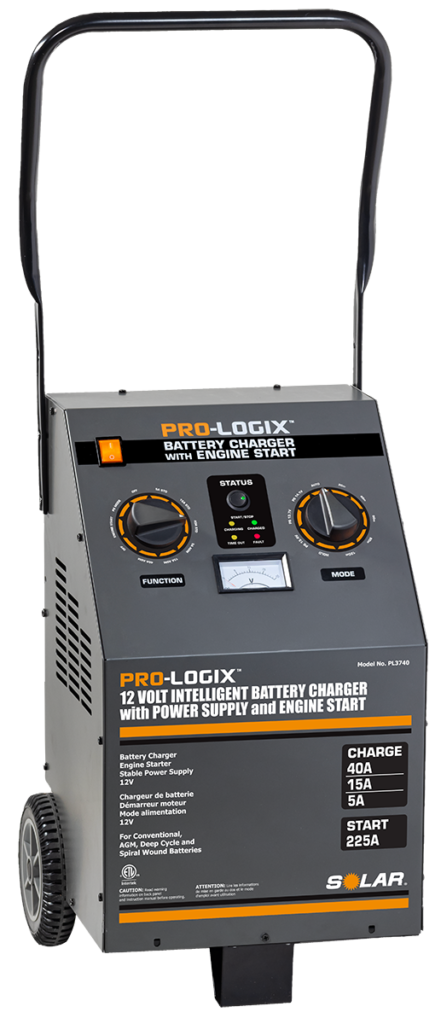 The PL3740 is a bit of a wolf in sheep's clothing. It features old school knob control for easy operational set-up, plus it incorporates a simple voltmeter/status LED control panel for easy assessment of operational progress. Yet, underneath that unassuming exterior lies a sneaky fast and sophisticated charging device. Really, it's the best of both worlds.
Auto charging mode (40A, 15A or 5A), utilizes an advanced, microprocessor-controlled process to deliver an optimal charge to each battery serviced. It features temperature compensation to ensure that each charging sequence is dialed into the needs of each battery. The PRO-LOGIX charging process results in improved battery condition and restored reserve capacity. But, the operator can also run one of several timed charge modes (20-120 min.), similar to what one would see on an older charger. Even during these timed charge modes, voltage and current are tightly controlled, allowing the unit to also be set-up to charge AGM and Spiral Wound batteries, which require different charging parameters than a typical lead acid battery. Plus, with Smart Clamp Technology and numerous safety features, PRO-LOGIX brings unsurpassed safety to your everyday battery charging needs.
Stable power mode maintains vehicle system voltage at the desired level to support a variety of diagnostic, repair and reprogramming applications. The PL3740 supports system voltage maintenance at three preset levels (13.4V, 13.7V, 14.1V), allowing the operator choose the system voltage level that best meets their need. Engine start assistance mode provides extra amperage to start vehicles with dead batteries or other starting problems caused by a lack of power. The PL3740 delivers 225 Amps of 12V Engine Starting Assistance.
The unit ships fully assembled, requiring only handle set-up, saving time and effort right from the start. The PL3740 also meets all energy efficiency requirements in the US and Canada. The unit is backed by a 2-Year Limited Warranty.
For more information, click here.
The Smart Choice for Today's Shop… PRO-LOGIX