Winter cold and summer heat are both of concern when it comes to the health of your vehicle, and your starting system in particular. This time of year, many news outlets offer primers on how to make sure your vehicle is ready for the long, cold winter. In an effort to save you time and hassle, we have pulled together a few resources related to this "hot" topic.
Few organizations know more about the trials and tribulations that vehicle owners endure with battery-related issues than Interstate Battery. According to their web site, they are the number one brand of replacement battery in North America. In this primer on AutCarePro.com, they address the top 10 precautions for ensuring your battery is up to the task of getting you through another winter: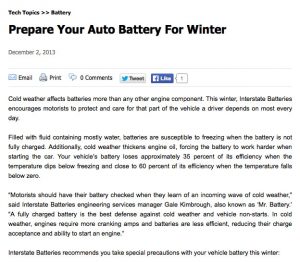 Our friends at ASE (National Institute for Automotive Service Excellence) have published a more comprehensive review of the many areas of the vehicle that can be affected by winter weather. ASE works to improve the quality of vehicle repair and service by testing and certifying automotive professionals. In addition, the article below also provides a variety of good to know and important to remember steps when it comes to winter travel: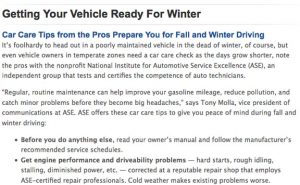 Finally, here's a recent article from the Wall Street Journal (definitely the first time we have ever referenced an article from them!) addressing this topic. Quick and to-the-point, this article hits the highlights and is accompanied by an informative audio discussion where key points are expanded upon. It's a good read and a better listen: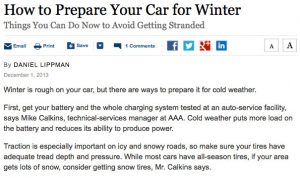 We know that time and resources are in short supply for almost everyone, but there are some great tips in these articles that are well worth following, starting with a quick check of your battery's capacity. Good luck and stay safe this winter.