Charging versatility comes from many different product features. Can the charger perform different functional tasks? Can the charger properly manage a wide range of battery types? Can the charger handle both large and small batteries without damaging either? Another way a charger can bring operational versatility is in its ability to charge batteries and systems of different voltages. It is very common to find chargers that can service 6 and 12 Volt systems, a little less common to find chargers that can service 12 and 24 Volt systems, and even less common to find that versatility in a portable unit.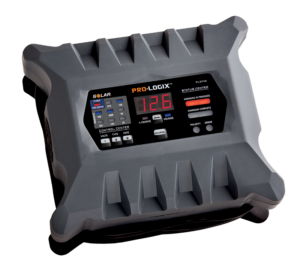 That's what you get with the PRO-LOGIX PL2410 charger/maintainer: the ability to service 12 and 24 Volt systems, plus multiple operational functions and the ability to service all lead acid batteries of virtually any size, making it one of the most versatile portable chargers we manufacture. Beyond its voltage versatility, it can service Flooded, Maintenance-Free Flooded, AGM, Spiral Wound, Gel Cell, Deep Cycle, and Marine batteries, properly and beneficially. Plus, it is not just a charger, it is also an advanced battery maintainer that can keep your battery in top condition during storage periods lasting days, weeks or months.
It features fully automatic operation in all modes, with three charge rate options (10A, 6A, 2A) in each voltage mode. That means it is the perfect charger for everything from powersports batteries to Group 31 batteries. It features temperature compensation and our PRO-LOGIX advanced charging logic, so that each battery service gets a beneficial charger, with restored reserve capacity and enhanced service life.
It's the 24V unit that brings exceptional versatility. Yes, it aslo does 12V charging. Yes, it provides full power (10A) charging in either voltage setting. Yes, it has the technology you need to deliver an exceptional charge, no matter the battery type or charging circumstance. Yes, it is a great maintainer, so if you need to keep the motorcycle, ATV, sports car or RV in optimal condition over the winter, it can do that too.
Powerful, Versatile, Smart… the PL2410 from SOLAR.