When it comes to battery assessment, what's old is new again. Or, something like that. In the last few years, in technician forums and expert articles, we have seen increased popularity of carbon pile variable load invasive testers. You might be asking, "Why? There are so many great digital testers on the market today [including SOLAR BA Series digital testers]." Well, it really comes down to wanting to offer comprehensive analysis to improve customer satisfaction and reduce comebacks.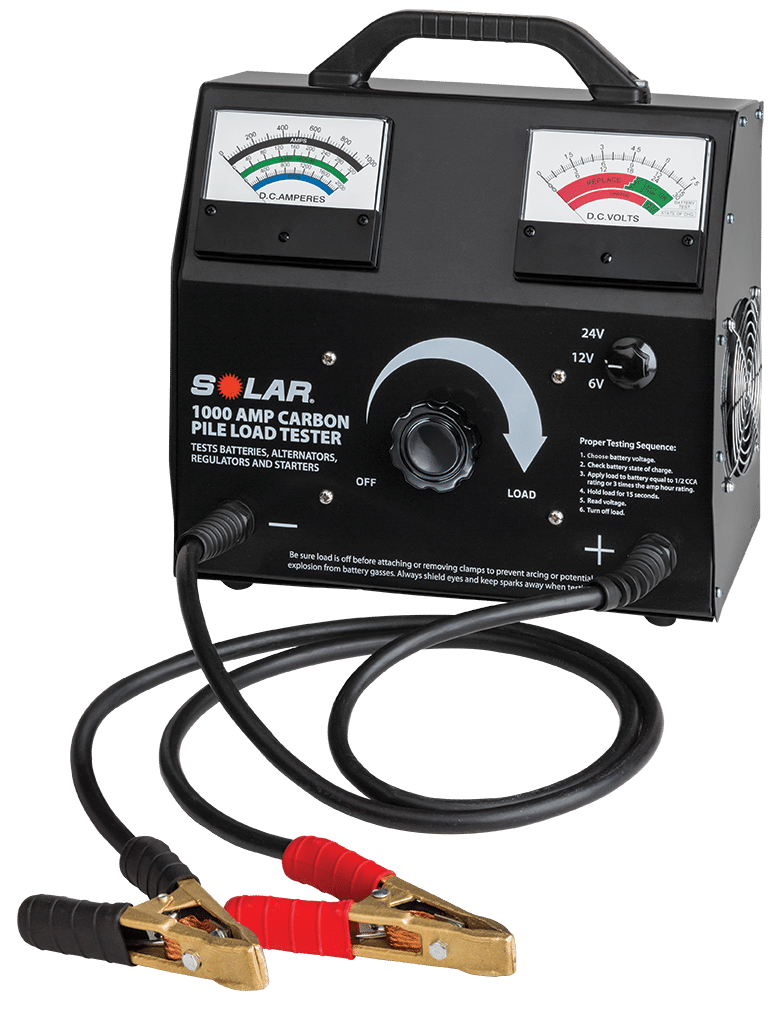 What we mean by this, based on discussions with shops and technicians, is that many are using a combination of digital testing and carbon pile testing in order to more precisely and assuredly assess battery condition and performance. This dual method is essentially designed to root out the 3-5% of batteries that, for any number of reasons, present a challenge when it comes to assessing them. By using two very different styles of assessment, so the thinking (and experience) goes, you have a much better chance of getting an accurate assessment of these tricky-to-analyze batteries.
When it comes to adding a carbon pile solution to your testing regimen, SOLAR Model No. 1876 has a lot to recommend it. First, it can load a battery to 1000 amps, which allows it to test batteries to 2000 CCA when using the BCI recommended load testing procedure. This enables it to test a wide range of batteries from the smallest powersport batteries to the largest fleet and industrial batteries, including Group 31, 4D and 8D batteries. It's load control knob and mechanism allow for easy load adjustment and control, enabling the operator to dial in the load level desired quickly and easily. It features an adjustable scale to easy account for different voltage batteries and systems, including 6V/12V/24V scales. Plus, it has long cable reach (54") and heavy-duty clamps for easy and secure access to vehicles of all shapes and sizes.
For more information, click here.
Fast, Effective Diagnosis… with SOLAR