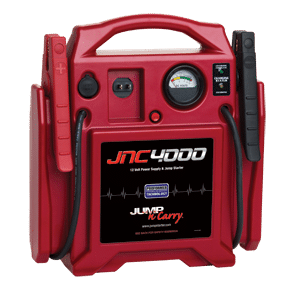 The JNC4000 is an 1100 Peak Amp 12 Volt jump starter that is perfect for both the professional user and the home enthusiast.  It delivers 1100 Peak Amps and 325 Cranking Amps of jump starting power from its Clore PROFORMER™ battery, which is specifically designed for vehicle jump starting.  Industrial Grade clamps ensure efficient power transfer, penetrating corroded battery terminals with their high-tension springs.
The JNC4000 now features automatic charging, which
allows the operator to leave the unit plugged in indefinitely without risking damage to the internal battery.  It also features a voltmeter to provide specific detail on the state of charge of its internal battery, plus provides information on alternator output once the vehicle has been started.  Its impact resistant case and heavy-gauge flexible cables offer protection and durability in even the harshest of shop environments.