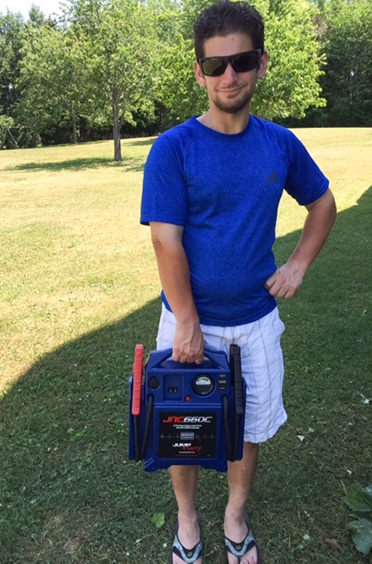 "Wow, this jump starter is AMAZING!
I never really needed one until I got mine. I'm glad I have one now! This jump starter is powerful, has great features, works well, you get a coupon to use when your warranty is up, and the company has great service.
The last two winters in my area were so terrible that a lot of people were stranded in the middle of nowhere, waiting to get their cars jump started! I have a great battery, but I knew I had to be prepared for emergency situations. I didn't have to buy the JNC660C, but I did to be more environmentally friendly. I did a lot of research before buying one and I know I've bought the best one for me!
I haven't had any problems with it. Other jump starters don't have as much power and quality. Lots of car service shops use this one too! I tell people, 'Get Rid of Your Jumper Cables – They Are So Outdated!' With jumper cables, you need to have another car with a strong battery and you need to know how to properly hook them up, or you're in trouble.
Besides jump starting cars, you can jump start other vehicles and use it as a silent generator, too! I do a lot of outdoor activities so this will really come in handy for me. This jump starter has a great battery life. It's been sitting in my trunk all winter and I jump started a decent amount of cars and it only lost a few percent! When I help people jump start their cars I feel like I have a new job helping people. I wrote a great review on it from the place I bought it from, so people know why it's great and why it's the best one for them! I love mine and I would highly recommend it! Get one and you'll be glad you did too!
Jump Starters Are Indated!"
Evan
Sanborn, NY
Ed. Note: We really love it when we hear from folks like Evan, who are super thrilled with their JNC or any of our other products. We'd love to hear from you as well. Please send your story and we'll send you a T-Shirt.