So, this one isn't about a specific fix, but about a class of information that can be very useful to shops and technicians in saving a ton of time and effort in the area of module swaps. We see many messages on the forums related to which modules can be swapped and which ones cannot be swapped. Also, for those that can be swapped, there are often a number of "yeah, buts" that go along with "it can be swapped."
Diagnostic Network just added a new feature (message type) related to module swaps – when are they successful, when are they likely to fail, etc. The goal is to develop a database similar to their waveform database that enables quick reference to known cases, both good and bad. This new feature could provide tremendous time savings in the future. It is obviously brand new and has only a limited number of postings in it so far, but over time, it will be full of very useful examples. Here's a link to Scott Brown's recent announcement about this new feature.
To see the original post at https://diag.net, click on the above screen shot or click here. To access complete forum posts or participate in the discussion requires a membership to the site. There are several membership options available, about which you can learn more here.
Steady Power is a Must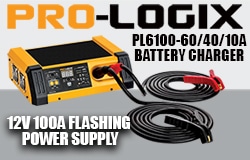 When it comes to module swapping or module programming of any kind, maintaining a steady vehicle electrical environment is a must. Failure to maintain system voltage in a critical window could result in, at best, a loss of time as you restart the process from the beginning, or, at worst, bricked modules that require replacement of the module itself at considerable expense. Save yourself from the time and cost of derailed programming events by investing in the right tool for the job – the PRO-LOGIX PL6100 provides clean, reliable power for module reprogramming, delivering 0-100A on demand to maintain system voltage at the desired level from 13.1-14.9V, adjustable in 0.1V increments.
About Diagnostic Network
Diagnostic Network is an online community of industry professionals and leading industry stakeholders coming together to create the resource to support technicians of today and tomorrow. With your help, we are building a wide, bi-directional communication path between top level diagnosticians and the leading providers of tools, equipment, knowledge, service information, OEMs, and education solutions in order to provide a deeper understanding of the needs and wants of the top level diagnosticians. We hope to inspire the rest of the industry in order to reduce the ever-increasing skills gap. Learn more at Diag.net.