Hondas and Chryslers and Fords, oh my! No-start issues come in all shapes and sizes, on all makes and models. In addition, they stem from a wide variety of root causes, making no-start diagnosis especially tricky. In this month's, article we have gathered together a number of resources around this difficult to solve service issue.
Failed PCM Tracked Back to CAN System Issue
In this informative piece, Gary Goms provides a case study of a PCM that failed repeatedly until the root cause of the issue was identified and corrected. In this case, it was a CAN system component, the immobilizer control unit, which was causing the PCM failures. Gary goes on to suggest that CAN system diagnostics will become an increasing issue for aftermarket service providers.
"To date, multiplexed body control electronics have been a relatively minor part of the diagnostic workflow in most independent shops. But, since CAN bus communications systems were mandated as standard equipment in 2008, more import platforms equipped with CAN systems will undoubtedly be coming into your shop… As a first step, you can begin to understand how modules communicate with each other by the simple process of polling all vehicle modules for both communications and trouble codes before diagnosing any no-start complaint. If you have a module that's not communicating, you should be able to retrieve a U1000-series diagnostic trouble code (DTC)."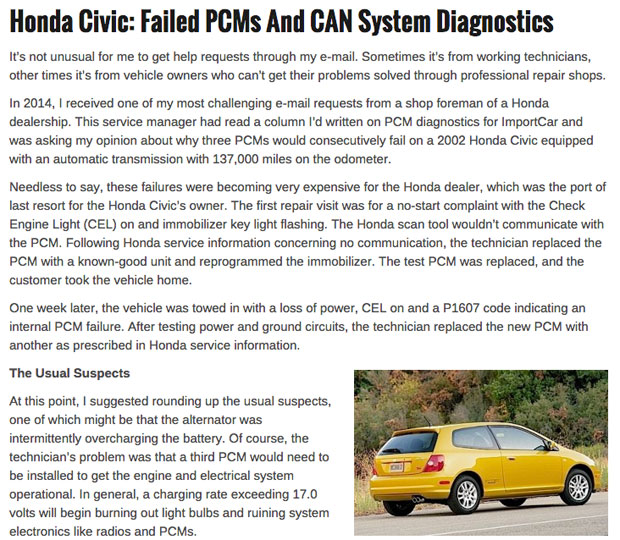 A Mechanical Solution to What Appears to Be a Communication Issue
In this TSB from Chrysler, a specific potential no-start condition is addressed for the 2012 300 model. Under this condition, the vehicle's starter will not engage and it will show an RFH code B1A80 (electronic steering lock communication performance). The TSB identifies the symptoms that should cause the technician to deduce that what they face is not a communication issue, but a mechanical one. The TSB then outlines the steps to take to repair the mechanical cause for the no-start condition.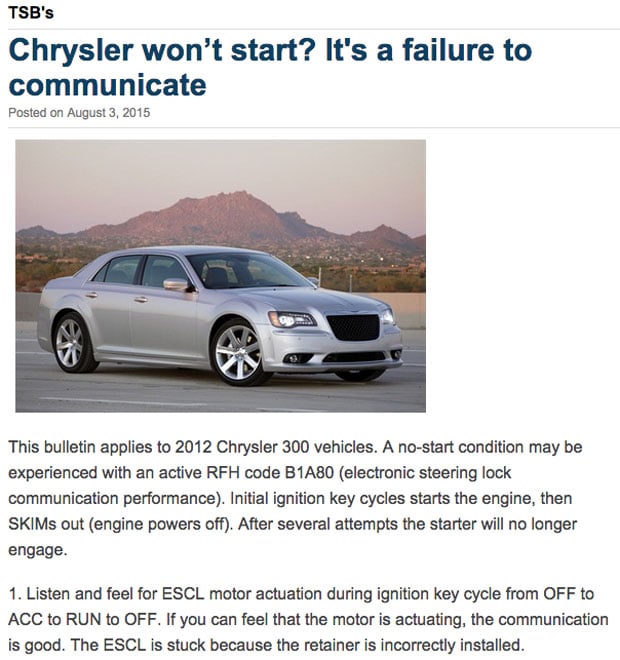 Excessive Buick Battery Drain
In this TSB from GM, they address a potential parasitic drain resulting in a dead battery no-start after the vehicle has been parked for any length of time. They identify the likely source of the issue as the rear fuse box, specifically calling out individual fuses by model year, noting that the issue is likely caused by a short to ground in the related circuit. Good information to have if you are working on Lucerne models.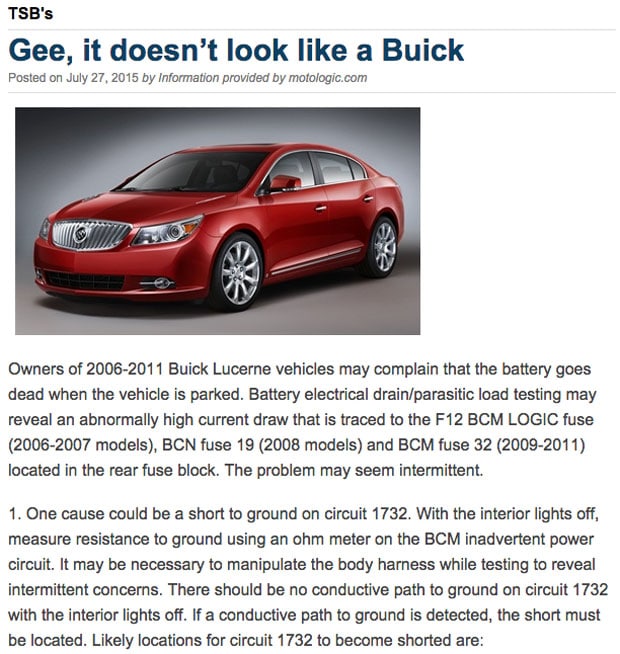 Remote Start = No-Start on this Ford
That remote start feature was supposed to make life easier, right? Well, not on certain 2013 Focus models. In this TSB, Ford addresses a potential crank no-start condition on models equipped with the 2.0L GDI engine with Intelligent Access remote start feature. The TSB calls for reprogramming to resolve the issue, with specific release details.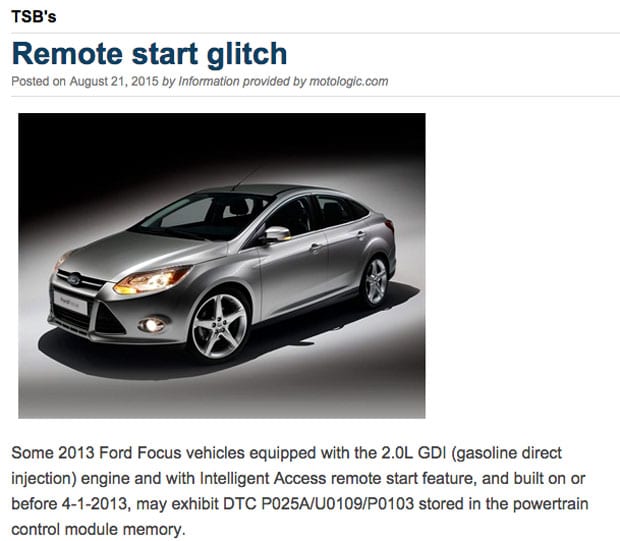 No-start conditions are a common topic in industry publications and on forums such as iATN because they are encountered so frequently in today's shops. As vehicles continue to increase in complexity, we can only expect the frequency of this service dilemma to increase as well. From case studies to TSBs, these resources reinforce the need to attack this problem both creatively and with a plan. It takes creativity, in many cases, to put the puzzle pieces together. At the same, attacking no-start complaints with a plan helps to reduce the likelihood of chasing a false lead.