As we bound into our Independence Day holiday here in the States, we thought it would be a great time to take a look back at our favorite American made cars of all time. American automotive manufacturing history is very rich and diverse and we can stack our best against any of the greats, in our opinion. These ten vehicles are our faves, as determined based on a fair amount of water cooler discussion.
It is critical that we emphasize that these are our favorite American made vehicles, not necessarily the "best" American made vehicles, though there are some contenders for that designation on our list, we believe. Like any list of favorites, this list is biased, non-scientific and completely personal. That said, based on the feedback we received a while back on our favorite movie cars, we know that you won't be shy about what we got right and what we got wrong.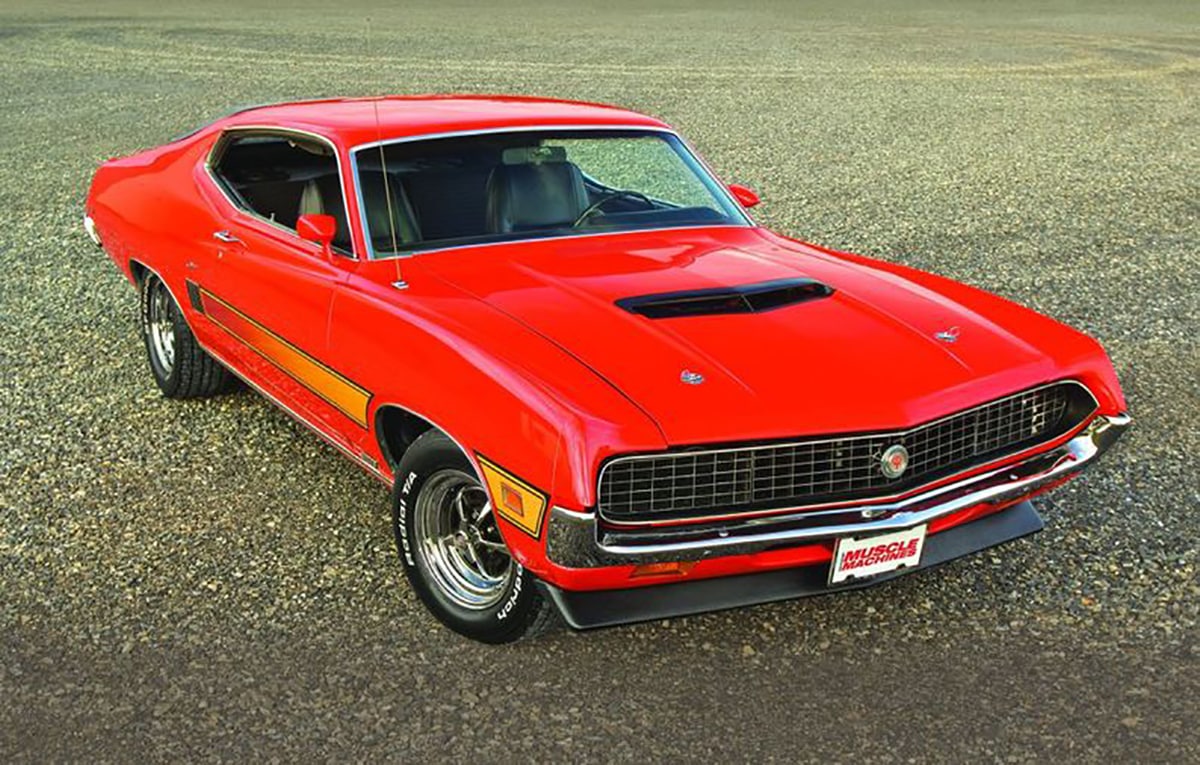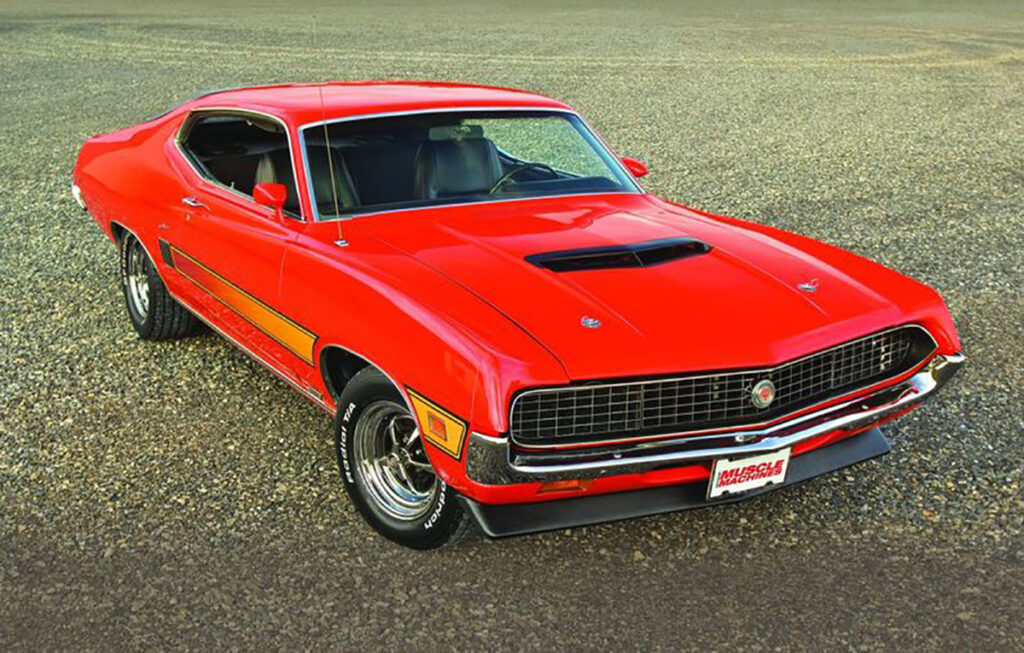 From our colleague who offered this vehicle: "A forgotten classic with a huge engine. Got to love the horsepower and this dinosaur from the ICE (internal combustion engine) past. Too much is written on Mustangs and Corvettes. The Torino was a blue collar fast ride." True words, for sure. Plus, the styling is great (hint: we collectively have a penchant for fastback vehicle designs). A California Torino owner, as quoted in a Hemmings piece on the 1968-1969 Torino, puts it, "I like most the fastback roofline and the way it looks from the rear. It seems very wide in its stance, and everything about it says 'muscle car." For us, the Torino, whether in GT or Cobra Jet dressing, is a great vehicle to represent this era of American vehicle evolution, where even Grandma could be driving a serious driver's car, what with the 1969 GT Fastback retailing for $2823. It is a great vehicle to lead off our lineup.
9. 1933 Chrysler CL Imperial dual-windshield phaeton
In a serious shift of gears, we turn to a car from almost 40 years earlier. It is hard to imagine what it would have been like to see one of these roll down the street in the middle of the Great Depression, but wow, the 1933 Chrysler CL Imperial Phaeton was surely one gorgeous beast in all its elongated glory. It's front fenders alone are longer than some 2-seater sports cars. And, it combined its beauty and grace with smooth handling, luxurious features and excellent performance from its 384 cu.in. straight-eight powerplant. Although it didn't produce the top speeds of a Duesenberg SJ, when it comes to looks and representing the era, it is our choice for this list.
Another major shift. We now turn to the modern day mold breaker and the vehicle most responsible for propelling American vehicle manufacturing into the (current) future. Whether you love or hate the mere concept of EVs, this is a serious machine and one that has captured the hearts of many drivers around the world. Like the above Imperial, it does not sell in great numbers, but it has done a great job of stretching what could be possible in a post-ICE world. One of only two vehicles on the list that doesn't reference a model year (for different reasons), the Model S continues to offer amazing performance, whether measured by acceleration, top speed, innovation or total cost of ownership. It's list of firsts is quite amazing and, with new variants like the Plaid rolling out every few years, there's no reason to think that the pace of change will slow any time soon.
7. 1964 Studebaker avanti r2
Another great example of American styling plus performance, the Studebaker Avanti was positioned against some serious heavyweights, including the Corvette, which the R2 came close to matching in many ways. With its unique design, it doesn't really look like it is from its era, but could have been introduced five years earlier or 20 years later. Also, it is the only vehicle on our list that was built by a manufacturer that is no longer in business (in one form or another). The R2 spec delivered a serious performance boost over the base R1 model, boasting 290 hp from its supercharged V8. With the R2 powerplant, its super cool fiberglass body and numerous interior innovations, the Avanti could compete with many domestic and foreign touring models of the day. Ultimately, the Avanti wasn't enough to save the company, but it sure holds a special place in American car history.
6. 1957 CHevrolet bel air door coupe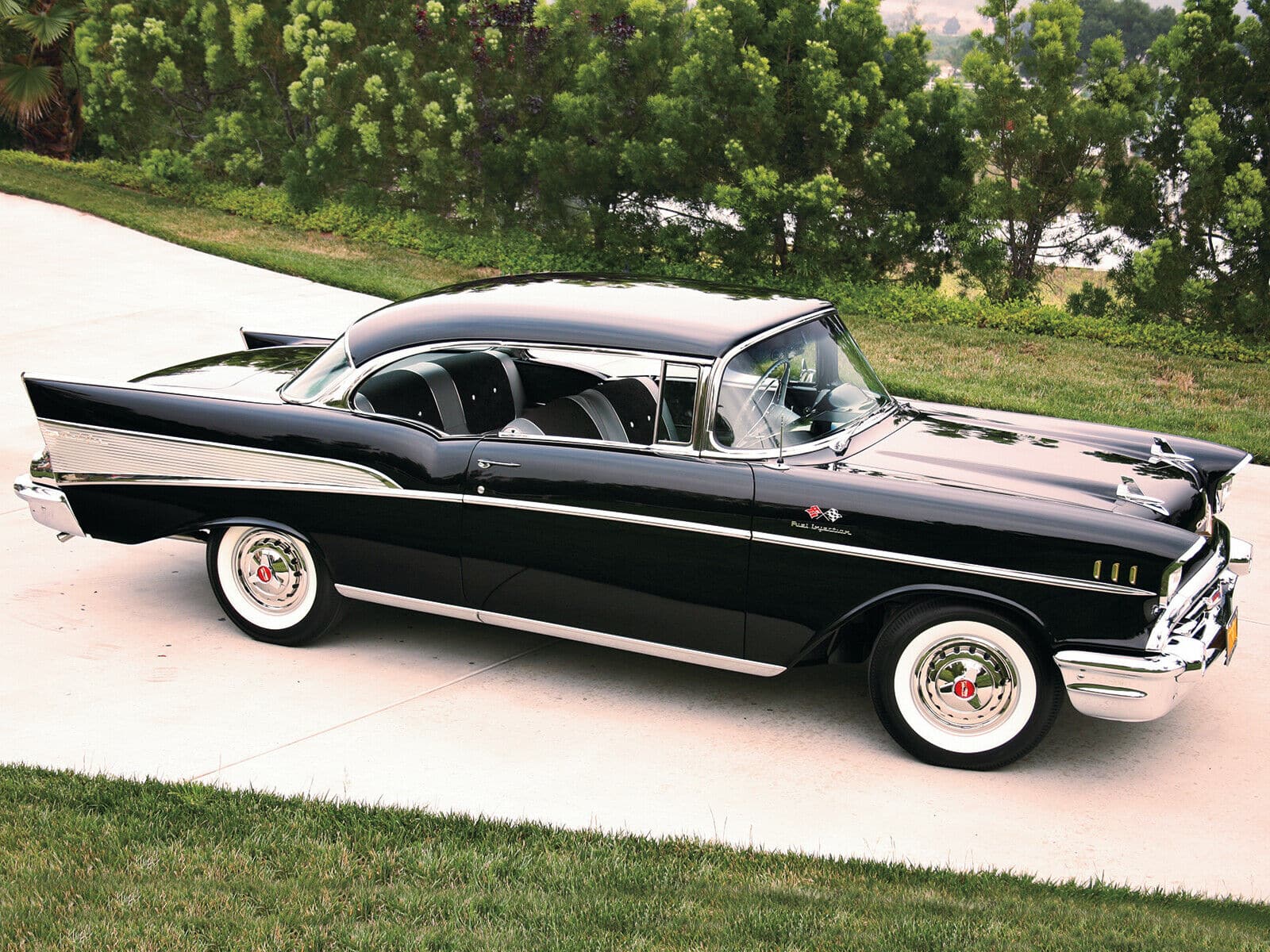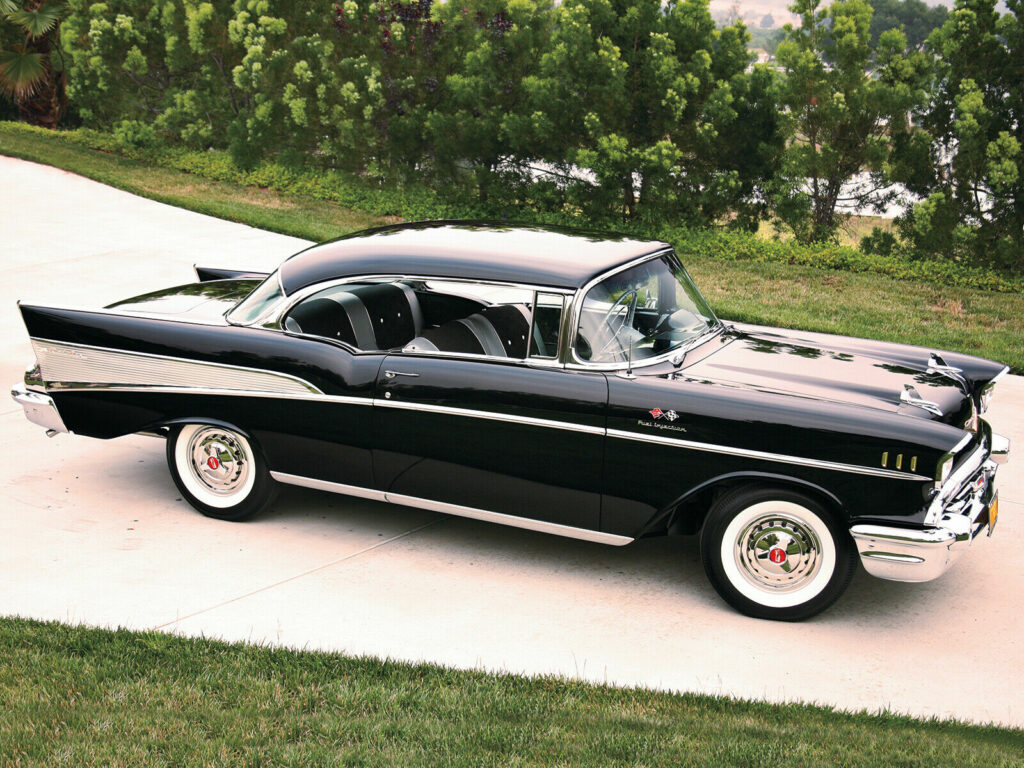 It would be difficult to make a list of favorite American cars and not have a 1957 model somewhere on the list. For us, there were many contenders for the list from this model year. You could say that this period, like the late 1960s, was a high water mark for American auto manufacturing. Despite the large number of other 1957 model year vehicles under consideration, in the end, it kept coming back to the Bel Air, which was truly a vehicle of its time. We think that Jacob Joseph at topspeed.com summed up its cultural relevance perfectly when he said, "Has there ever been a more iconic American car than the '57 Chevy Bel Air? Of course there hasn't, it's not even close. Not even the Model T is as much a symbol of its age as the Bel Air. It represents American middle class postwar prosperity perfectly, and is a rare example of a car with styling that was exactly in line with contemporary fashion and design." Plus, it offered a great ride with solid performance, featuring 247 hp and a top speed over 120 mph. It has been featured in TV shows, movies and popular music. Truly one of the greats of American history.
5. 2022 Cadillac ct5-v blackwing
Perhaps this is the evil twin of the Tesla Model S that we have at number 8. Another performance monster, to the tune of 668 hp and 659 ft-lb of torque, this one's all sound and fury (just like we like it). If, as they have promised, we are in the final throws of ICE Cadillacs, the Blackwing is a fitting swansong for a brand that is synonymous with American motoring. At Clore, we are big fans of current era Cadillac styling and their push to develop performance models to rival the best in the world. They seem to have gotten there, as Car and Driver says the Blackwing "remains our favorite V-8–powered sports sedan thanks to its balanced handling and explosive acceleration." Just like it's good for the NFL when storied franchises like the Bears or Steelers are competing at a high level, we think it's great for American automotive manufacturing when millions of people go to bed at night dreaming of owning a high performance Cadillac.
4. 1970 dodge charger daytona
Perhaps there is no more American vehicle on this list in the sense that it is all bombast and aggressive styling combined with jaw dropping performance – that's a combo that feels all-American to us. It's funny that our research uncovered that these vehicles weren't really that popular when they graced the showroom floor in 1970, especially considering what they'll fetch now. Maybe all that over-the-top styling was a little too much for your average John Doe. Designed with NASCAR in mind, this and its Plymouth cousin, dominated the circuit for several years, with the first 200+ mph documented speed in 1969 and with Daytonas/Superbirds winning 38 races in 1970. When we think of iconic American cars, this one comes right to mind.
3. 1969 Ford Mustang boss 429
Now we enter the final three. When it comes to choosing a late 1960s fastback Mustang variation, it is about as close to a pick 'em as it gets. For many, it's one of the Shelby models, which we totally understand. For us, it's the 1969 Boss 429. And really, it has always been the Boss. We love the styling and the performance from its big block V8. Officially rated to 375 hp, minor modifications could get an owner to 500 hp or more. Like the Dodge Charger Daytona, this model was rolled out to dealerships simply to meet NASCAR requirements. It was always meant to be a racer and, again like the Daytona, sales numbers reflect that. But, boy, is it a beauty. In our opinion, it is far more beautiful than the Daytona and, like the Bel Air, the Mustang captured the hearts and imaginations of American motorists of the time.
2. 1963 Corvette stingray split window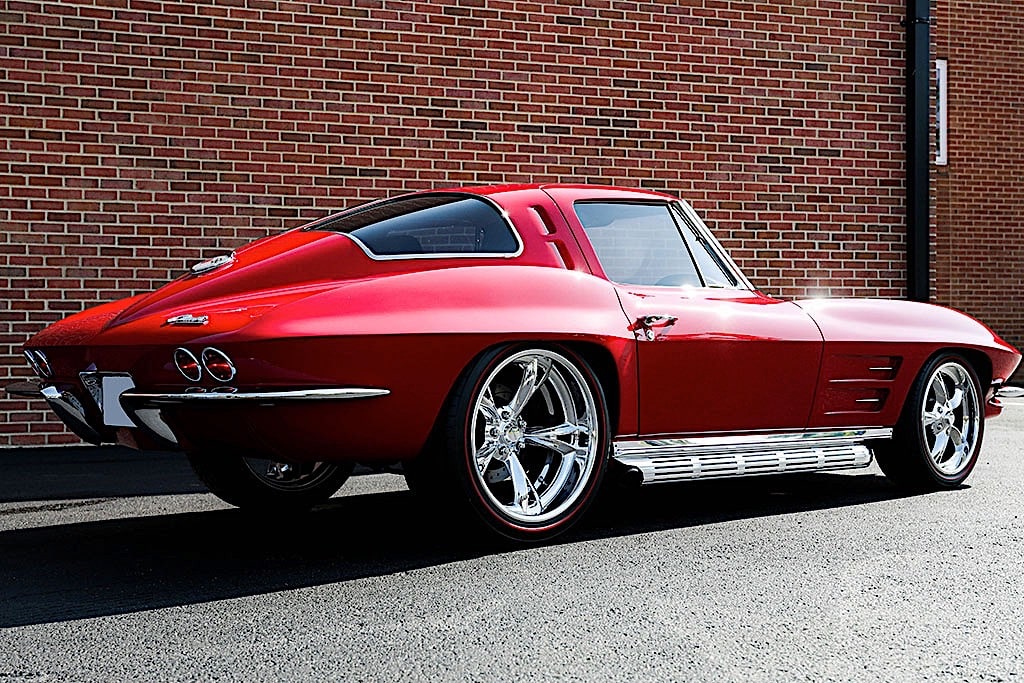 Similar to the Mustang above, we could do a top 10 just of Corvette models. We had votes internally for the 1957 roadster, the 1967 L88 and, of course, the new 2023 C8 Z06 with the Z07 package. Also, like the Mustang and Bel Air, the Corvette has woven itself into the fabric of American popular culture. In the end, the 1963 split window just does it for us in a way that no other model does. Perhaps it's the split window and the fact that it was the C2 Stingray launch year, or, maybe it's the fact that 1963 was the first year that it was offered in a coupe. Its unique styling gives the C2 the look of nothing else out there, before or since. Whatever the reason, this one is our Corvette of choice. Of course the 1963 Stingray significantly upped the performance equation vs earlier models, delivering 360 hp and a top speed of 160 mph. The new model also introduced numerous other performance enhancements, such as an independent rear suspension as well as next generation chassis and frame. It was a whole new animal in 1963, inside and out. And we love it.
Most people who grew up to be car nuts likely got their start with Hot Wheels cars, slot racing and Speed Racer. Those little kids never totally vanished, even as the realities of adulthood create a reset of sorts when it comes to dreaming about future vehicle purchases. So, even though you might think now and then about how you could push the envelope within your economic and practicality limits, you still have those "what if?" moments. In those moments, it helps to have something really special to dream of. Enter the GT. More aspirational than reality for most of the driving public, it checks all the boxes: beautiful, exotic, a performance monster, you name it, it's got it. It is the American made supercar and rivals any exotic nameplate on the planet. Again, like the above two models, there will be many that quibble over the vintage chosen. We respect that point of view. That said, we believe the 2005 represents the perfect balance between the untamed beast (1960s vintage GT40s) and technology overload (2018 vintage GT). Here's what they had to say about the 2005 GT over at Goodwood.com: "There was every chance this thing could have been a joke compared to contemporary supercars. It wasn't. It was in fact, as is widely reported, one of the finest driving cars of its generation. A sweet gearshift, a gorgeous alloy chassis, a willing 550PS (404kW) supercharged V8 engine and finely calibrated suspension made for what many in the know consider to be an all-time great supercar driving experience. It was also significantly cheaper and faster than comparable European machinery. Because that's how Americans do performance cars." Amen to that!


How about you? Do you have a favorite American made car? We'd love to hear about it in the comments below.