We wrote about our new PL2140 6/12V Battery Charger/Maintainer from SOLAR a few months ago. It is a great new item that is versatile enough to provide optimal service to a wide variety of battery sizes and types. It features our multi-stage PRO-LOGIX automatic charging logic and an enhanced maintenance mode for ideal long term storage charging. But its at this time of year that one feature on the PL2140 provides additional reassurance.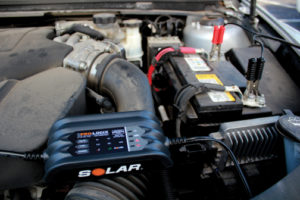 The Recovery Mode feature on the PL2140 puts you, the operator, in control of how the charger will react to power outages. With it set to ON, when power comes back on after an outage, the charger will resume charging based on the last charging parameters set. This way, if you cannot attend to your vehicle immediately after an outage, you can rest assured that the PL2140 is maintaining your battery in optimal condition for when it is needed next.
This is particularly important in cases where you are a long distance from the vehicle being charged. Recovery Mode eliminates the need to have someone check up on your vehicle to confirm that it is getting the charge it needs.
Powerful, Versatile, Smart… SOLAR.