Throughout North America, media outlets and business sites are trumpeting the increasing interest in outdoor activities, including unprecedented demand for all classes of RVs. Here are just a few of the recent headlines:


"A survey of 4,000 U.S. and Canadian residents released last week by the world's largest network of private campgrounds showed people are eager to find a way to get away and get outdoors." Colorado Sun

"RV sales surge as coronavirus upends summer travel plans." Fox Business

"Scared Americans Desperate to Travel Are Buying Up 'Covid Campers' – Recreational vehicle dealers report a tide of customers desperate to get away, but wary of cities, crowds and the coronavirus." Bloomberg

We suspect that many in our audience are pursuing similar means of recreation and diversion. So, we wanted to share some thoughts as it relates to batteries, including servicing them, emergency starting them and powering other devices from them. Because, when you're on the go, there's a really good chance that batteries will play a much more central role in your comfort and convenience than they have in the past.

Starting
In many cases, if you're new to the camper/RV game, you may be dealing with a vehicle much larger than you are used to operating. This is true whether you just got into a new motorhome or upgraded your commuter vehicle to tow your new 5th Wheel or a small camper. We can't add to the discussion about how to safely and efficiently get it down the road, but we can offer some useful thoughts when it comes to making sure you have what you need to start it in a pinch.

The first thing to look at is the number of starting batteries in your vehicle. If your motorhome or the vehicle doing the pulling has more than one battery, it may drive you into a larger jump starter to deliver the power you'll need. The same is true if your vehicle is diesel powered, which usually requires 20-30% more starting power than an equivalent capacity gasoline engine powered vehicle. For these starting tasks, it makes sense to look at our high capacity workhorses: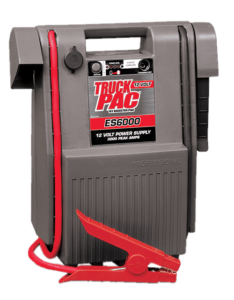 ES6000 – Powered by dual ES Series batteries, the ES6000 has serious starting power, delivering 3000 Peak Amps and 800 Cranking Amps to depleted vehicle systems.

JNC950 – The JNC950 is the jump starter of choice for busy diesel shops and marinas, thanks to its high capacity Clore PROFORMER battery. Plus, with a rugged rotomolded case, it is built to stand up to even the harshest work environments.

JNC8800 – The new kid on the JNC block, the JNC8800 is an ultracapacitor driven jump starter that delivers 800 start assist amps. Perfect for cold weather environments, the starting power of the JNC8800 doesn't diminish in cold temperatures (until you reach <-30˚C).

Whatever jump starter you choose, remember to charge it once every 90 days to make sure it is ready when you need it the most. This is true whether your jump starter is power by lead acid batteries, lithium batteries or another power source. A great way to remember to charge your jump starter is to sign up for our recharge alerts. We'll send you a reminder every 90 days – you don't even need to buy a Clore jump starter to use this service. Sign up here.

Charging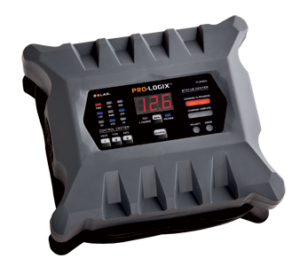 For charging your starting batteries, whether in preparation for a trip or while on the go, you can't beat our PRO-LOGIX portable chargers. They are small, easy to use, super effective and have specific charging modes for the various lead acid types you are likely to encounter. If your starting batteries are 12V (or parallel 6V batteries in a 12V configuration), we recommend the PRO-LOGIX PL2320. It features 6 and 12 Volt operation, multiple charge rates up to 20A, our advance multi-stage charging technology, an enhanced maintenance mode for when your vehicle encounters periods of inactivity and numerous safety features to make charging safer for the user and the equipment being charged. If your vehicle features a 24 Volt starting system, we've got you covered there as well. The PL2410 has the same features as our other PRO-LOGIX chargers, but provides 12 or 24 Volt charging with a max charge rate of 10A.

If you purchased something new, it is likely that your house batteries (the batteries used to power your RV or camper, but not used to start a vehicle) come with a built-in charging system. You simply connect to AC power and you are good to go. But, if your vehicle is older or more home brewed, you likely require a solution to keep those house batteries charged when you are camping or when prepping for your next trip. For this task, we recommend our PL4050 Battery Maintenance Station. With it, you can charge/maintain up to 4 batteries simultaneously, with all of our PRO-LOGIX effectiveness. It even has a channel that can charge 6 or 12 Volt batteries (three channels are 12V only).

AC Power from Your DC Power Sources – Power Inverters
As noted previously, batteries are likely to become a major area of focus and concern in your new mobile, off-the-grid life. One of the key areas you may need to focus on is your AC power requirement in different environments and situations. If you don't have easy access to AC power, how long can you go? How much can you power? This is where a quality power inverter can be a true game changer.

Again, if your RV of choice is newer, power management and, specifically, conversion from DC to AC power when shore power is not readily available, has likely been addressed in a sufficient and elegant manner. Often, they incorporate a industrial grade generator. But, if your RV is older or you need to supplement its power, incorporating a power inverter into your mix is a significant likelihood. So, what should you consider when looking to incorporate an inverter into your power mix? Here are a few thoughts:

– Make sure you have enough power. Based on the emails and calls we receive, this is a big one. We would suggest that a 2000 Watt inverter should be your entry level size, but that you should take a hard look at a 3000W model. We haven't spoken to a customer yet who wished they had less power availability.



– Calculate your battery need. We frequently get calls from customers who have a 3000W inverter hooked to a single Group 24 battery and are aggravated that they are not getting 3000W from the inverter. Make sure your battery capacity matches your inverter capability. We cover the process of calculating your DC power supply requirement (battery) need in our operator's manuals.

– Look at the duty cycle of the power inverter you plan to purchase. There are many great products and many less than great products out there. A key aspect of inverter performance to watch is the ability to deliver power as your power source is drained. If you are off the grid, as you place demand on your system to power your devices, your DC power source (battery) will begin to discharge. Many inverters will see their power delivery capability diminish with the power source's state of charge. Not so with SOLAR industrial grade power inverters, which deliver their rated power until the power source reaches 11V. We call this the "real world power demand" and our ability to deliver power when it is truly needed separates our models from much of the competition.

Here are our top selling power inverters for serious power demand applications:

PI20000X – Our 2000 Watt model features three AC outlets and a power management display that can show both input voltage and output wattage (how much demand is being place on the inverter). Like all our heavy-duty models, it has a mounting plate for easy installation in an RV.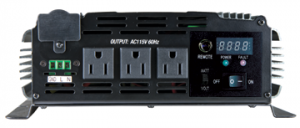 PI30000X – Our 3000 Watt model adds the convenience of a junction block connection in addition to its 3 AC outlets. This connection is ideal for fixed, hardwire installation, which is the preferred method in most RV applications. It also features a remote switch that allows for ideal placement, since you don't need to access the unit itself to turn it on and off.





If you are hitting the road this summer in a new rig, we wish you all the best for fun times and safe travels. One great way to improve the chances of having fun and being safe is to consider your power needs in advance and addressing them as best as possible prior to leaving home. We hope this article helps you to do just that. Have you run into power issues when trying to get your RV game on? How have you dealt with them? Please drop your story into the comments below. Happy trails!