When it comes to reliable high power illumination, it is tough to beat the LNC375 from Light-N-Carry. Delivering 750 max lumens, it is ideal for a wide variety of uses, including underhood, undercar and automotive interior work or numerous industrial, construction, safety and other non-automotive applications.
Its advanced LED technology provides bright, pleasing illumination to any task and it features three intensity settings, 750/350/80lm, enabling the operator to adjust the output based on their application needs. It also has a pull action zoom feature that enables the operator to choose between a more focused beam or a wide angle beam for greater coverage. It delivers long run times, with 3 hours of run time in the max output (750lm) setting.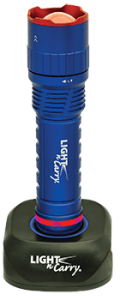 It features a rugged anodized aluminum construction, a protected micro-USB charging port with charging status indicator and two methods of recharging: using the wireless charging base or charging directly via its microUSB charging port. The LNC375 includes a wireless charging base, wall charger, braided charging cord, 21700 rechargeable lithium battery installed and a Repair Service Coupon for a one-time, fixed-fee service after the warranty period has expired.
For more information, click here.