Ed. Note:  We have seen PRO-LOGIX powering some amazing vehicle collections around the US and beyond, but this may be the most interesting and diverse collection yet! We really appreciate Dan sharing his story and letting us know that our products are helping him keep this amazing collection powered up and ready to ride.
"I started working for a local guy in July 2016 that has a unique private car collection that includes some original and replica TV and movie cars (see list below). He has almost 30 different vehicles, along with original Batman costumes and others. Original props from shows and movies.
I maintain all the vehicles. None of them ran when I first started. I drained all the fuel, put fresh fuel in with Seafoam and changed fuel filters. Some of the carburetors needed to be rebuilt. Several of the batteries needed to be replaced.
I installed Optima batteries in several vehicles and he bought several [PRO-LOGIX] PL4020 and a few PL2320 to keep the batteries charged. I installed a few switches in some of the vehicles to disconnect the batteries from the electrical system while charging.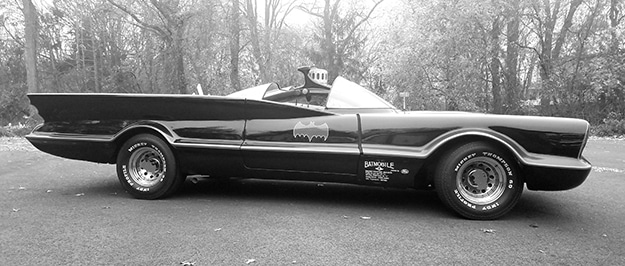 Vehicle List:
Batmobile. #3 George (Barris Original)
Starsky & Hutch (Original)
Andy Griffith (Original)
Beverly Hillbillies (Barris Original, Movie)
Jackie Gleason Limo (Original, Pawn Stars)
Jackie Gleason Golf Cart (Original)
Lucille Ball Golf Cart (Original)
Ghostbusters Ecto 1 (Replica)
Munster Coach (Replica)
Drag-U-La (Replica)
MonkeeMobile (Replica)
Tommy Boy (Replica)
Scooby Doo Mystery Machine (Replica)
Get Smart (Replica)
Herbie (Replica)
Smokey & the Bandit Police Car (Replica)
Bluesmobile (Replica)
Bat Copter (Replica)
Bat Cylcle (Replica)
Bat Boat (Replica)
Vacation Truckster (Replica)
JokerMobile (Replica)
Animal House Deathmobile (Replica)
Volo Museum Beverly Hillbillies (Replica)
Back to the Future (Replica)
Jurassic Park Explorer (Replica)
Bat Girl Cycle (Replica)
Dumb & Dumber Van (Replica)
I have been working on most of the vehicles so they can be displayed at local events and fundraisers.
They will eventually be displayed in two New local museums."
Dan
Keyport, NJ