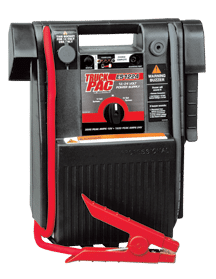 The ES1224, by Truck PAC, is a heavy-duty jump starter capable of supplying power to both 12 and 24 Volt vehicle batteries. Easy-to-use and versatile, it switches from 12 to 24 Volts with the turn of a knob, all without sacrificing its extreme starting power.
The ES1224 features ES Series batteries, specifically developed for vehicle jump starting applications. ES Series batteries deliver high output current, extended cranking power, numerous jumps per charge and a long service life. Delivering 3000 Peak Amps in 12 Volt mode and 1500 Peak Amps in 24 Volt mode, it can tackle a wide variety of starting tasks, from automotive and marine to fleet and agricultural applications. Like all Truck PAC products, it features the ease and convenience of automatic charging, eliminating the possibility of overcharging.
The ES1224 features heavy-duty construction and components, including a heavy-duty case to stand up to even the harshest shop environments, #2 gauge welding cable leads for maximum power transfer and Industrial Grade Hot Jaw™ clamps to penetrate corrosion on battery terminals. It also features our exclusive AWS – Advanced Warning System™, which alerts the operator to a variety of unsafe jump starting conditions with its audible warning buzzer.