SOLAR Digital Battery and System Tester Model BA327 has been updated and upgraded for the 2014-2015 winter service season. The next generation BA327 now adds Start-Stop AGM and Enhanced Flooded batteries to its already extensive list of testable battery types. This now brings the total to six specific testable battery types for the BA327: Flooded, AGM Flat Plate, AGM Spiral, Gel Cell, Start-Stop AGM and Start-Stop Enhanced Flooded batteries.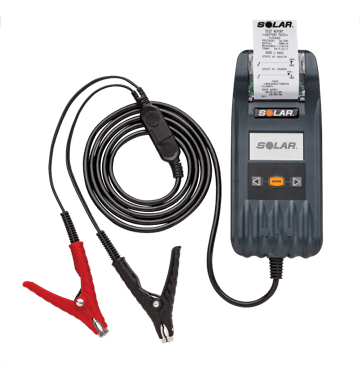 Additional enhancements include operator temperature input during the testing process for more precise results in all testing environments. In addition, its new body design delivers more secure handling, whether performing battery assessment or transporting it in the shop. A new printer enables faster, easier paper loading and delivers clearer output for improved service documentation.
This next gen model also incorporates a new clamp design that provides improved access to increasingly hard-to-reach battery connections. Finally, it runs a quick self-diagnostic routine each time it is connected to a battery to confirm proper cable conductivity and feedback.
Fast, Effective Diagnosis… with SOLAR.