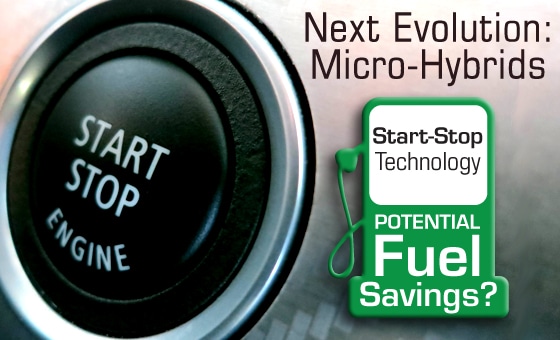 In this article, the third in a series identifying resources related to a specific vehicle electrical application, we have pulled together a number of reference articles related to a new approach to vehicle starting/charging called Micro-Hybrid Systems. We have compiled a group of articles that provide an overview of this new technology, examine the implications this technology has for battery requirements and discuss the pros and cons of this new approach.
Another in a series of dramatic changes to vehicle battery and electrical system design, Micro-Hybrid Systems use new Start-Stop technology in gas and diesel powered vehicles to effectively turn the vehicle off whenever it is idle, restarting the engine once the brake is released or the clutch is engaged. These new systems are projected to deliver fuel efficiency and environmental benefits. But, they require specific battery designs to support the increased cycling and deeper discharging that come with such usage patterns.
First up, from the April 2011 issue of Car and Driver, is a short overview of these new systems, including a discussion of different methods of implementing these systems. It provides a good starting point for those unfamiliar with the new technology.
Car and Driver: Start-Stop Systems
Next is a great blog post from GSF Car Parts. Because these systems are much more established in Europe than in North America, we looked there for articles. By doing so, we could get more real world feedback versus theoretical projection in markets where these systems are already in everyday use. This post provides a good survey of the different battery types being deployed in these new systems, including the benefits of each.
https://blog.gsfcarparts.com/agm-batteries/
Next is a blog post from GigaOM, a business and technology blog, from June of 2011. This post does a good job of describing the market forces behind the Start-Stop technology trend. It details both the overall economics impacting the growth of these systems and the regulatory environment that has created the opportunity for them.
GigaOM: Start-Stop Technologies
This fall, Ford will roll out a Start-Stop option on their popular Fusion mid-size sedan. According to Ford, "Auto Start-Stop improves fuel efficiency by about 3.5 percent overall; predominantly city drivers can save up to 10 percent." This is a major milestone for the technology in North America. Here are two links related to the new Fusion, one to the Ford site and one to Green Car Congress, which provides a broader overview of this development.
https://media.ford.com/article_display.cfm?article_id=36292
Green Car Congress: Start-Stop Systems
Our last link is a rebuttal of sorts, in the form of an article from the The Truth About Cars web site, posted last year. The folks at TTAC see the potential benefit of this approach, but they question whether real world results will meet projections until better battery technologies can be commercialized for this application. While this article was written a year ago, and is likely based on even older research, it does make the case for tempered enthusiasm for this new technology. We felt it important to include this perspective in an effort to provide as broad a view of this evolving technology as possible.
The Shocking Truth About Start Stop Systems
Whether you believe that these new systems can deliver on all of their promise or none of it, the main take away here is that they currently have traction and will appear in an increasing number of vehicles over the next few years. Vehicle owners will have to assess these systems for themselves to determine if this is a feature they want on their next vehicle, while aftermarket service facilities will need to be prepared to service and repair these systems in order to meet their customers' needs.