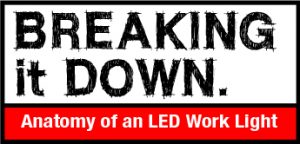 In this series, we take a look at what makes a specific product tick. We're taking a look at Rechargeable LED Work Lights. What should purchasers be looking for in an LED light? What are the factors to keep in mind? How can they differ and what are the benefits of different feature sets and component choices? In other words, what is most likely to result in a satisfying purchase.
Just What Comprises a Rechargeable LED Work Light?
There are myriad options when it comes to choosing an LED work light, but almost every light has a few basic common components, so it is useful for us to cover those first, to be sure we have the same terminology. Virtually every rechargeable LED work light includes a combination of these components:
Light Engine – there are many different LED light engines, ranging from older DIP LEDs to the more recently developed SMD LEDs and COB LEDs. Each has its use and its place, but it is important to understand the benefits (and drawbacks) of each as you choose a lighting solution.
Battery – For this article, we are looking only at rechargeable LED lighting solutions, as we believe the value of rechargeable solutions is overwhelmingly greater than that of non-rechargeable options. When it comes to rechargeable solutions, almost all products today are built using an internal lithium battery.
Charging System – By definition, these lighting products will come equipped with a charging system of some sort. Often, this means a wall charger and cord, but could include a charging cradle or other convenience options.
Unit Case Configuration – LED lighting solutions come in all shapes and sizes. Case configurations can add convenience features, such as mounting options, that make using the light easier, faster, more ergonomic, etc. Also, most LED lighting cases are rated for ingress protection (how does it repel/withstand dust and water infiltration?). This can be very important depending on the application in which the light will be used.
Portable, rechargeable hand-held LED work lights are a fairly recent development, as LED technology has improved and lithium battery technology has matured. The combined evolution of these two technologies has resulted in a proliferation of portable work lights in all shapes and sizes that can, at times, be overwhelming for the prospective purchaser. So, what should one look for in a hand-held LED work light?
First, it is important to match the features of any prospective lighting solution to your specific application needs. In the automotive repair environment, will you be performing undercar inspection tasks, under dash repairs, local area engine compartment repairs, tire and wheel work, or detailing applications? In the construction environment, are your performing HVAC repair, electrical work, plumbing applications or another task? The answer could impact your purchases decision. For instance, for undercar inspection, HVAC work or industrial machine repair and maintenance, magnetic mounting is likely an essential feature of any chosen solution. It may not be as critical for other applications.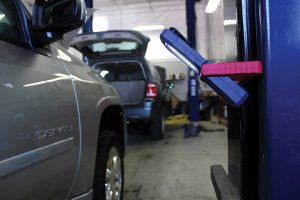 Our research has pointed to several areas that are of critical importance to professional users of LED lighting solutions. These include illumination, run time, durability, convenience and functionality, and warranty. Below, we will cover each of these areas and how they come into play for Light-N-Carry LED lighting solutions.
Illumination – Sounds easy, right! We're talking about lights, so it needs to be bright. Well, not so fast. Many aspects go into what we ultimately see as a specific light's output. These include lumens (light intensity), color temperature, light pattern and more.
As noted above, there are many different light engines, so let's start there. For Light-N-Carry LED lighting solutions, we use only COB LED light engines for the primary lighting function of our products. We believe this provides many benefits, including pleasing light, a wide effective lighting area, the elimination of hard edges at the periphery of the effective lighting area and better energy efficiency. Also, all of our COB LED light engines are balanced to deliver the proper color temperature for effective work place illumination. All of this adds up to a superior lighting experience with less energy used for a given lumen output (read: longer run time).
Run Time – Right behind lumen output, run time is of critical importance to professional technicians of all industries. What does your use case look like and what run times will you require to support it? Many factors go into run time, including nominal battery capacity, battery efficiency, LED power consumption, charging efficiency and overall circuit efficiency. With high capacity lithium polymer batteries mated to super-efficient COB LED light engines, Light-N-Carry LED lighting solutions offer exceptional run time performance. Many of our portable LED work light models feature 4 hour run on the high setting.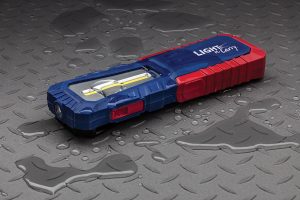 Durability – In almost every professional application, LED work lights are going to encounter demanding usage patterns in a hostile work environment. So, it is important to choose a solution that is going to stand up to that scenario. Light-N-Carry portable LED work lights are resistant to drops of up to 5 feet and feature IP54 ingress protection against dust/water. Cases are molded from chemical-resistant materials to stand up to harsh shop environments and several models feature our Grip-TechTM finish for sure handling, enabling many drops to be avoided in the first place.
Convenience and Functionality – This one is key to matching your lighting solution to your application. Our portable LED work light models come in several shapes and sizes, allowing you to choose the size/shape/lumens that best meet your needs. For instance, our LNC1241 200lm LED Work Light is a popular choice as an inspection light, since it is small enough to fit in a shirt or pants pocket, allowing a technician to keep it at the ready throughout their working day.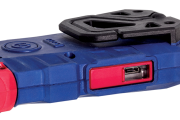 All of our portable LED work light models feature 180˚ swivel arms with magnetic mounts plus hang hooks, allowing them to be easily positioned in the best location for each task they need to illuminate. Also, our buttons are logically placed for easy access and are typically larger size, so they can be actuated with a gloved hand. Most models utilize micro-USB charging ports for quick, convenient recharging and all feature advanced charging circuitry for optimal battery health and long battery life.
Warranty – Warranty is always a critical factor when it comes to professional tools and equipment. Light-N-Carry LED lighting solutions come backed by a 1-Year Over-the-Counter Replacement Limited Warranty. This means that, if your LNC light fails within the first year after purchase, barring abuse or misuse, you can return it to your place of purchase for a replacement (proof of purchase required). So, in the rare event you have an issue with your lighting product, there is a quick and easy remedy.
But, we go a step further. Most Light-N-Carry LED light models include a coupon for a one-time, fixed-fee repair after the warranty period has expired. So, for instance, if your light stops working in year 3 (for any reason, even if you roll over it with a steamroller!), you can safely package and ship it back to us with the original coupon and a check in the amount of the coupon's face value, and we will repair or replace it (at our discretion) and send it back to you.
A/F/S LIGHTS
Our A/F/S (area/flood/site) lights are consistent with our work lights above. They feature advance COB LED lighting technology, convenient features and robust construction. They have the same Limited Warranty and come with Repair Service Coupons, just like our portable work lights. But, they add a few features that are worth noting.
System Approach – Unlike portable lights, A/F/S lights are typically used in combinations greater than one and often require an independent mounting solution, as they are usually positioned at a distance from the work zone due to their high intensity output. So, it makes sense to seek a solution that offers a system approach that accounts for these needs.
Light-N-Carry A/F/S lights are complemented by the LNCPOD, a unique adjustable light stand that can accommodate 1-4 A/F/S lights in combination to illuminate large work spaces. For multiple light executions, it features an extension bar on which can be mounted either two or four lights, depending on the light model used.
Working Together – Because A/F/S lights are often used in pairs and more, it makes sense to choose a solution in which the various elements work together for maximum effect and efficiency. Our Model Nos. LNC2251 and LNC2551 utilize the same removable battery system (same battery, same charger). Each model comes equipped with two batteries and the batteries are interchangeable. So, if you are in need of multiple light sizes/output to meet your application need, combining the 1500 max lumen LNC2251 and the 4000 max lumen LNC2551 makes a lot of sense.
We hope that this is a helpful overview of the key considerations when choosing an LED work light solution for your needs. We suggest starting with your application and use case and working backwards from those needs to the solution that makes the best fit. Remember that not all LED light engine are the same, so it makes sense to find the option that you prefer. Finally, consider the environment in which the product needs to perform and choose a solution that will last in that environment.