My wife, Lisa, and I had just completed the car inspection at the 2018 Hot August Nights event held at the Atlantis Casino, Reno, NV. We finished restoring a 1947 Ford Coupe 3 days before the event, after 3 years of on and off work. Not a lot of time for testing.
We climbed back in the car to leave the inspection area and move on to the photo shoot. To our surprise, and dismay, the engine wouldn't turn over. We panicked. Other hot rods were lining up behind us. I got on the phone to my mechanic and friend for help (3 hours + away). He had some ideas that didn't work. Line of cars was getting longer and the inspectors, although understanding, were getting nervous.
We pushed the car forward, a bit out of the inspection line and called AAA. We were placed on hold after talking to "Jenny the Robot" with an English accent. She didn't understand "Black Cherry" color or model: Ford Coupe. Response time was unknown. The temperature was in excess of 100 degrees to make matters worse!
Lisa said, "This is a big car event, you'd think someone could help us." So, I asked a few cars in the line for a jump start. A couple 50s-60s era cars tried but couldn't turn the engine over. I guess the three electric fans had done a job on the battery during the inspection process.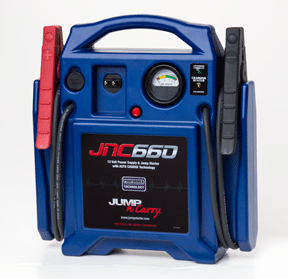 All hope was lost and my mechanic was going to get in his car and drive the 3 hours to help… I looked across the lot and saw the large blue Napa Stores vendor's tent. I asked Lisa to walk over and see if they had something we could borrow to try and start the car. She was back in a few minutes, dripping sweat, and carrying a big blue Jump Start battery box. Nothing else worked and we weren't even sure it was the battery. Might be a burnt wire, bad neutral safety switch, etc.
No sooner did I hook it up than the engine fired right up!! Mega stress level immediately dropped. The inspectors and cars behind me were close to cheering. Lisa headed back to return the battery, when I had a thought. "Could we afford to live without this insurance policy and I was now pretty attached to this Jump-N-Carry JNC660." We didn't return it – we BOUGHT it!
As you can see from the picture, we have it predominately displayed in our annual HAN picture. We got quite the applause from the spectators who witnessed the entire event.
THANK YOU NAPA AUTO PARTS and CLORE AUTOMOTIVE!
Terry and Lisa,
Brownsville, CA