Usually, when we address electrical issues in our spotlight, it is related to how an electrical problem prevents a vehicle from starting or renders the charging system inoperable. This month's feature provides an example of how a simple electrical issue can bring the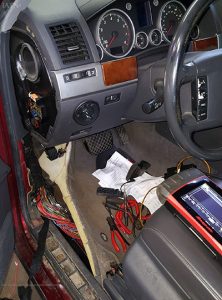 powertrain to its knees. Here, Scott from Minnesota walks us through a VW "transmission won't shift" complaint and how logically followed the issue back to its source. It's a good one.
For more on this story, additional contributors added that this issue is covered by TSB 9709-02 and that it is a fairly common failure in wet winter months.
To see the original post at www.iATN.net, click on the above screen shot or click here. To access additional forum posts or participate in the discussion requires a membership with the site. There are several membership options available, about which you can learn more here.
About iATN
The International Automotive Technicians Network is the largest network of automotive repair professionals in the world: a group of 80,000+ automotive professionals from over 160 countries. The members of this group exchange technical knowledge with their peers around the globe, sharing 1.8 million years of experience. iATN has been proudly serving the automotive service and repair industry and the needs of professional automotive mechanics around the world, for over 15 years.