This month, we take a dive into three critical areas of change related to the repair and maintenance of vehicle starting and charging systems: module reprogramming, ADAS system repair and recalibration, and Start-Stop systems. Each of these areas are evolving quickly and all have major impacts to the equipment needed by today's shops to achieve successful repairs. Keeping up isn't easy, nor is it cheap. Fortunately, there are many resources out there that enable shops and techs to learn critical details related to these systems, whether you are just starting out with them or working to refine your already established routines. Here's a quick round-up of (mostly) recent additions to the knowledge base on these systems.
What is the Best Reprogramming (flashing) Strategy?
This is one of the hardest questions to answer, mostly because there is no "one size fits all" strategy that is going to work for all shops. This question, usually posed by shops who have made the decision to take the plunge for the first time, is one of the most commonly asked questions on Diag.net and iATN.net, based on our observations. As noted in this introductory article by Andrew Markel on import-car.com, "The [decision] to reflash is the hardest because there is no one solution or single path to follow."
In this article, he outlines the equipment needed to offer such a service in a shop, including a computer, a device to communicate with the vehicle (such as a jbox), software subscriptions, a stable power supply and lots of time to learn the process. He also addresses things to keep in mind when choosing each of these components. For instance, he notes, "It is best to invest in a battery maintainer made for reflashing before starting to reflash…" We'd highly recommend our PRO-LOGIX PL6100 for this task.
The article provides a quick, generalized overview that can serve as a great starting point for a shop just beginning their journey into vehicle reprogramming.
Never Underestimate the Importance of a Healthy Battery When Reprogramming
Here's another piece from Andrew Markel, this time a video stressing the importance of having a healthy battery in the vehicle when performing a module reflash. The basic message of the video is very straightforward: if you are programming a vehicle with a marginal or unhealthy battery, it could compromise your reflash event, which can waste a lot of time and compromise the module being reflashed, which can be very costly. As he notes, some reflashes can last as long as 4-10 hours – it would be very unlikely to achieve a successful result on such an involved reflash if the battery is compromised. Always check battery health using a quality battery tester (like our BA327) before you invest your time and effort into a reprogramming event.
Clearing Confusion When It Comes to the Need for a Power Supply
Our final piece related to reprogramming, this very quick video addresses the question on what to use to maintain system voltage during a reprogramming event. In the video, he makes no bones about it – the right tool for the job is a reflashing power supply that provides very stable output and offers the ability to adjust its voltage level target to match the specification of the maker of the vehicle under service. What he's describing sound just like our PL6100 flashing power supply, which delivers 0-100A to maintain an operator-selected voltage from 13.1-14.9V (adjustable in 0.1V increments).
ADAS Under the Microscope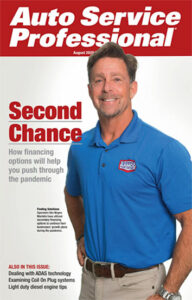 Similar to module reprogramming, ADAS is another application that can be tackled by shops in numerous ways, leaving many shops stymied on which direction to take. This article, by Edwin Hazzard in Auto Service Professional (link to digital magazine), provides a great overview of this service, the equipment involved and the things that shops should keep in mind as they consider the different options for deployment. "Let's say you would like to get involved with this new technology in your shop. What do you need, where do you get it, and how much will this cost? Those are questions that have to be answered."
He touches on the legal aspects of offering this service and then goes into the question of OE vs aftermarket tools, delving into how a shops' business mix could impact that decision. He also addresses the need for space in shop to perform the calibrations, since it requires a significant amount to room around the vehicle to set the targets. He then breaks down the difference between static calibration and dynamic calibration. He wraps the story with a review of scan tool options and the tooling (targets, etc.) required to perform this service.
GM ADAS Guide
This quick article, by Anna Zeck on AdaptAutomotive.com, alerts readers to a new ADAS Calibration Guide published by GM, providing a link to download the document. As they note, "Although the guide does not replace the OEM procedures, the 'Driver Assistance Systems' document is meant to serve as a configuration reference for shops to utilize both to educate themselves, as well as insurers and customers."
The guide breaks down each ADAS procedure involved in servicing GM vehicles, noting the official name, RPO code, what is involved in the procedure, when calibration is required and issues that can be encountered when performing recalibrations. If you are servicing GM vehicles, this article (and the linked resource) could be very helpful.
Servicing Start-Stop Systems
We have name-checked this article once before, but think it is worth bringing back around a second time. We get a lot of questions related to servicing Start-Stop equipped vehicles. Questions related to both battery assessment and charging/starting system diagnosis and repair. This article, by Andrew Markel on UnderHoodService.com, runs through the different ways Start-Stop impacts various areas of vehicle design, from the obvious (battery, starter) to the less obvious (HVAC, command and control). As these systems become more ubiquitous, particularly in the last 4-5 model years, shops will increasingly face challenges related to them. As Andrew says to wrap the article, "Like it or not, you will be working on a stop/start system at your shop as more vehicles with this technology see their warranties expire."
A Top 10 List Related to Start-Stop
Another one from UnderhoodService.com, this piece is a great compliment to the above article. In it, Andrew Markel provides a list of the top 10 things to know about GM Start-Stop systems. Some of these are quite well known and have been covered significantly, such as the fact that GM Start-Stop systems often deploy larger batteries (more capacity is needed) and/or utilize a multi-battery approach (their first configurations, on the Malibu and Impala, utilized a second smaller battery in the trunk). Others may be less known, such as the fact that if the brake pedal position sensor is replaced, it should be recalibrated, since it plays a significant role in the operation of the Start-Stop system. It is a great, quick list that is worth a scan to make sure you are aware of each item.
Start-Stop and Engine Longevity
As a resource for our vehicle owner audience, who may wonder if Start-Stop systems will reduce the life of the vehicle they have spent their hard earned money on, our final article, by Jesse Crosse on autocar.co.uk, takes a look at the impact these systems have on engine life. It provides an overview of Start-Stop and how it works, then delves into the wear and tear these systems bring with them. It then reviews some advanced technology around reduced engine wear. For drivers, it is a good resource to help them determine if vehicles equipped with these systems are right for them.
Vehicle systems continue to change in rapid fashion, as automakers add increasing amounts of technology to the vehicle for a variety of reasons, government regulations mandate the incorporation of more safety systems and the chase for ever-improving fuel efficiency rattles on. These changes mean that module reprogramming (often to overcome no start conditions), ADAS recalibration (which requires a stable power supply) and diagnosing and repairing Start-Stop systems are applications that will increase in frequency and (if the past is any indicator) in complexity. We hope that these resources help you navigate this tricky landscape for more efficient and effective shop operations.
Have you run into a particularly difficult Start-Stop systems diagnosis or had issues with supply power for reprogramming or ADAS recalibration? We'd love to hear from you in the comments below.