"In the past, I have wasted money and time on many so-called quality jump start boxes from top mobile tool vendors just to have another jump box that may not work as I need it to. Then, I came across Clore Automotive.
I really was not looking to buy another jump box, as the old jumper cables became a habit again. I was reading their customer feedback and what I read almost didn't seem true. Then, I thought that these feedbacks were from real people like myself and the peoples' way to tell the real truth on items they purchased and how the item performed over time.
Then after I read all of the feedback on the JNC660, and along with that many positive feedbacks on the jump box and Clore's warranty, I just knew it was not BS. My order was delivered faster than quoted and then it was put into use. Its first job was a high compression high performance 427 Chevrolet big block engine and, to my surprise, the JNC660 turned that big block over like it was no big deal. This really put a smile on my face as I had the old jumper cables on stand-by in case they were needed. Its next task was Dodge 1 ton 4WD dually truck with a Cummins diesel and I about fell over as the JNC660 once again started it up without a hesitation or strain. And, yes, the ole jumper cables were on stand-by again.
That afternoon, I was going through some emails and was floored when I came across an email from Clore Automotive advising me to recharge my jump box. Never in my 40 + years of being a mechanic have I ever seen anything like that at all. In today's world, people don't put forth much (or any) effort in things and are looking to make money on anything and saying anything about themselves or the product just to close a sale.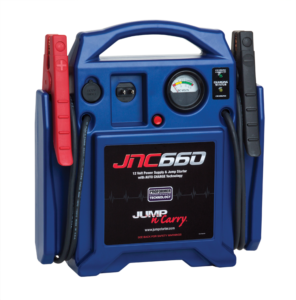 Well, let me tell you, that there are still a few like Clore Automotive that still give a s#@& about their customers and selling quality merchandise at a great price. Clore Automotive knows that pricing is not the only thing that establishes a solid customer base – it's what the company is going to do for the customer long after the sale is made. I'm the kind of guy that doesn't mind paying more if I get the satisfaction of how things will be handled later on, should there be an issue.
I'm not one to go into detail or do reviews like this, but when a company like Clore Automotive does what they say and the products they sell do the same, then I'm going to do everything I can to let others know about it. My thanks to all the folks at Clore Automotive for renewing my confidence in people and quality tools."
Johnny
Springtown, TX