It has been a long, tough winter for most parts of North America, so we thought that we'd lighten things up in this month's newsletter. We're counting down our favorite movie vehicles (and one mostly TV vehicle). We know these lists are subjective in nature, and many readers will say, "How could you forget _____!" For instance, you won't find Steve McQueen's Mustang or the Ford Coupe from American Graffiti. For some, such omissions are blasphemy. Well, it's our list and we're giving you our favorites, with no apologies. We'd love to hear your favorites in the comments below.
Honorable Mention – Our One (Mostly) TV Entry – The Mystery Machine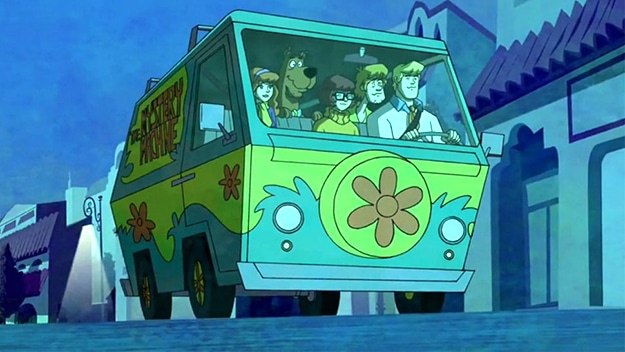 A case could be made for the Mach Five, KITT or The Green Hornet's Black Beauty, but for us, no TV vehicle was as iconic as the Mystery Machine. The Mystery Machine was like the 6th member of "the gang," as they were first referred to, before they earned the moniker Mystery Incorporated. Of no specific make (no, it's not a VW microbus), most speculation centers around it likely being modeled on a small mid-1960s American van, the type manufactured in response to the VW microbus. Any way you slice it, for many of us, this was the first car/vehicle we really cared about.
Let's Start the List!
10. Herbie: The Love Bug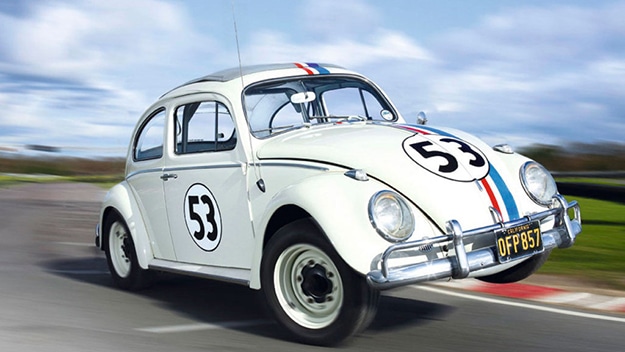 This one is a no-brainer in the sense that the movie was the story of the car. And, it was an iconic car-character in its day. Herbie was a 1963 Volkswagen Beetle with a sunroof and a lot of hutzpah. Its number 53 was recognizable around the world and eventually launched 4 theatrical release sequels (so far). One cool car fact in this film was that the bug was rigged to be driven by a hidden backseat driver during the scenes where the car was driving itself. It was fitted with a second steering wheel, gear shift and pedals behind the driver's seat.
9. Mercury Marquis Brougham, Uncle Buck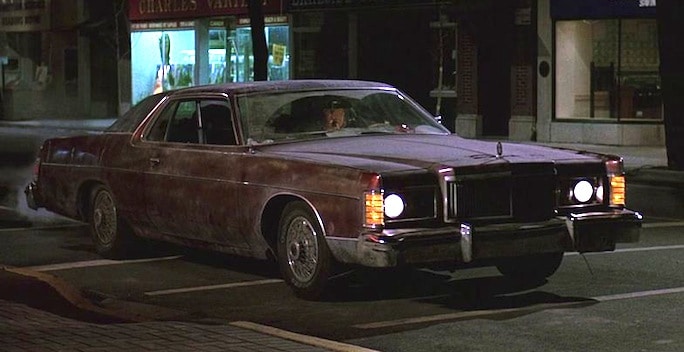 Everybody grew up with a friend or relative who had a car they referred to as The Beast. For me, it was my buddy Chris' Delta 88, which ended up wrapped around a Chicago light post (no injuries, thankfully) before we were out of high school. In the case of Uncle Buck, The Beast is a Mercury Marquis Brougham, and an especially ugly one at that. Like most of the vehicles we're spotlighting, it wasn't just background noise. His love of The Beast was a key attribute of Buck Russell and one that we find endearing and understandable.
8. Mirthmobile, Wayne's World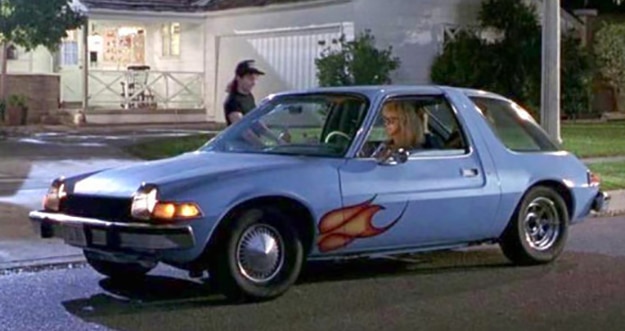 What else could Wayne and Garth be rolling around in, as they get themselves into and out of trouble in Aurora, IL, circa 1992? It had to be something pretty bad and it was: Garth's Pacer, affectionately dubbed the Mirthmobile. Just about as bad as it gets. Didn't even have matching wheels. And that was the point. Nothing was going to keep these guys down, so much so that they turned their humble ride into a point of pride. Rock on Garth!
7. Bumblebee, Transformers
For cool factor, this one's hard to beat. It ushered in the new Camaro and created huge demand for a vehicle that wouldn't be commercially available until well after the release of the movie. Bumblebee's styling was based on the 2006 Camaro concept, with various alterations. Its body panels were even made from the 2006 Camaro Concept's molds. The end result was a super cool looking car that fit perfectly with the look of the movie.
6. Dodge Charger R/T, The Fast and The Furious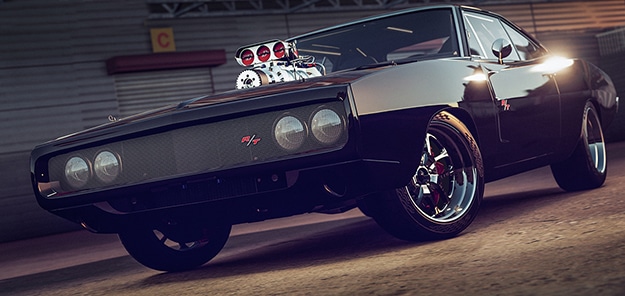 Hard to believe this movie is already approaching its 20th birthday. Although 30 years old in the movie, this car still looked wicked in 2001. Like the other vehicles sighted in our list, this Charger was integral to the movie's plot and took many star turns throughout the film. And, it looks amazing in the climactic race scene as Dominic battles Brian and a speeding train, only to get busted up after colliding with a semi. Good stuff!
5. Porsche 928, Risky Business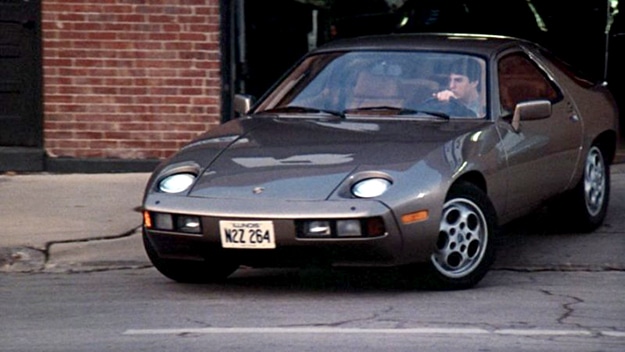 This one is a little like Uncle Buck's Marquis. If you aren't in a certain age range, you might think this choice is out of left field. But, the Porsche 928 from this movie was such a key component of the plot and the atmosphere of the movie, that it remains a key movie vehicle for us. The make and model were specifically chosen by the film's writer/director, Paul Brickman, "because it was exotic, but not unobtainable, something that a well-to-do suburban family man… could have daily-driven to work in the city." It is hard to imagine any other car being the plot driver of this movie, that's how interwoven it is with the movie's look and feel.
4. Everything, Cars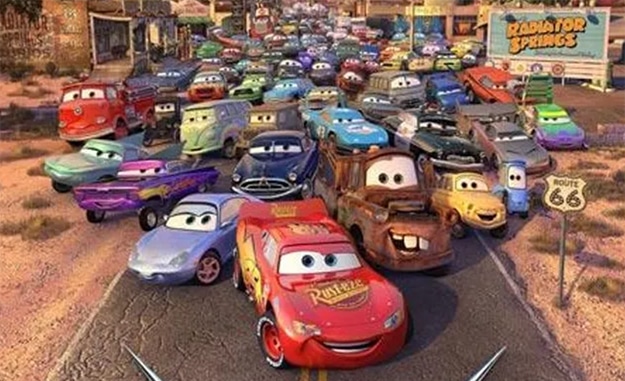 Well, of course we had to include a movie completely devoted to vehicles. It is a great movie and has so many great car/characters fashioned after real models. While the film's designers say that Lightning is an amalgam of several different vehicles, we'd say its dominant DNA has Corvette written all over it. Most of the other characters hue closer to specific models, even specific cars in the case of Doc's Fabulous Hudson Hornet based character. And they do their thing in a town called Radiator Springs. The sum total is a movie devoted to the love of cars, which we love.
3. Everything, Gone in 60 Seconds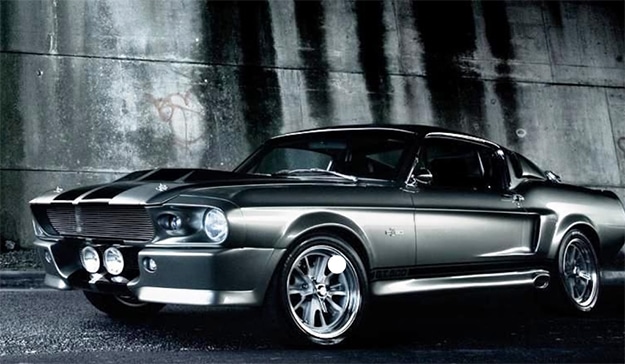 Yes, Eleanor is the big focus in this movie and she is great, but it is the totality of the wheels that make this movie rock the Richter scale. This movie has something for every car taste. Gullwing Mercedes 300SL? A gorgeous Pantera? A 550 Maranello? Perhaps your tastes run to the AC Cobra. Who could blame you? The target vehicles in this movie are essentially the hall of fame of automotive design and performance, capped off by a DuPont Pepper Gray GT500 in the role of white whale. The acting might be suspect, but the vehicle lineup sure isn't.
2. Pontiac Firebird Trans Am, Smokey and the Bandit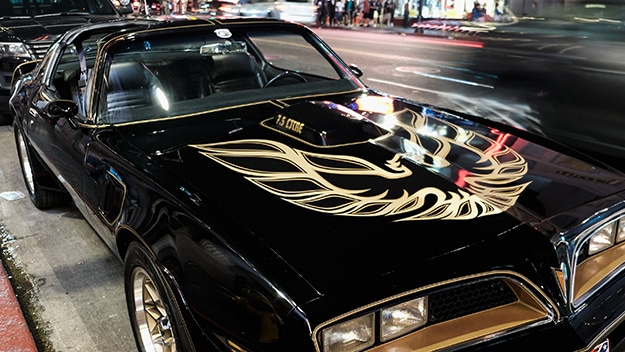 You knew this one would be on here. Hard to imagine a list like this without it. In terms of iconic factor, The Bandit's T/A is pretty hard to beat. Sales of the Trans Am spiked in the two years following the release of the film, nearly doubling unit sales from 1977 to 1979. Like Bumblebee, the Bandit's T/A was a hybrid of sorts, with a 1977 front end mated to a 1976 model. Either way, it was a sensation. Even 40 years later, if you see a Trans Am from that vintage, the first thing that comes to mind is the film.
1. DeLorean, Back to the Future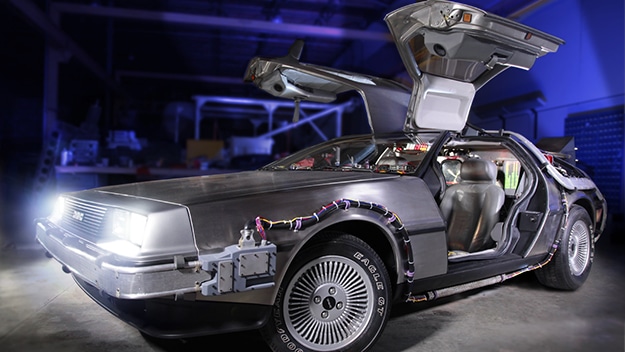 Even more than the 928 in Risky Business, it would be impossible to imagine Doc rigging up a different ride with his flux capacitor. The car and the movie are inextricably tied together. It is crazy to imagine that when the screenplay was first written, the time machine was intended to be based on a refrigerator. Luckily, they shifted gears and replaced the refrigerator with a DeLorean. Once they greenlighted the script, three DeLoreans were purchased and customized in just 10 weeks. And, to get the sound they wanted, sound engineers used the sound of a Porsche 928 V8 engine. For us, it really is the ultimate movie car.
Well, that's our list. And we had a lot of fun compiling it. We talked about another 30 movie cars that didn't make the list. It is a great topic of conversation and (gentle) argument. We hope you enjoyed reading it as much as we enjoyed creating it. What did we miss? What can't you believe we skipped over? We'd love to hear from you in the comments below.