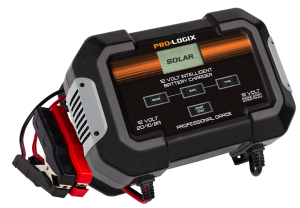 Combining fully automatic operation, the ability to properly charge multiple battery types and engine starting assistance capabilities, the new PRO-LOGIX PL2545 is an ideal all-purpose charger to meet the needs of technicians and home enthusiasts. Intelligent, beneficial, safe and versatile – one charger does it all, from fast charging and battery repair to engine starting assistance and long term storage charging. Plus, with the ability to properly charge virtually any lead acid battery type, it is the only charger you will need. Flooded, AGM, Gel Cell, Spiral Wound, Start-Stop, Marine and Deep Cycle batteries all can be charged properly with the PL2545.
Here are just a few of its capabilities:
12 Volt battery charging
12 Volt engine starting assistance
20/10/2A 12V charge rates
Fully automatic operation
Advanced multi-phase charging process
Properly charges all lead acid battery types
Soft Start Mode for severely depleted batteries
Recondition Mode rejuvenates distressed batteries
Enhanced maintenance mode for ideal long term storage
Temperature compensation for more effective charging
Forced start feature allows it to service totally dead batteries
Reverse Polarity Protection and Battery Fault Detection
Data rich display provides detailed feedback during charging
Smart, Effective Battery Service – that's PRO-LOGIX.
For more information, click here.