It's that time again! Time to turn to the automotive diagnostic experts. The guys who have spent years sorting out tricky, misleading and often contradictory signals, error codes and driver experiences to get to the bottom of vehicle problems and now share their experiences with the automotive repair community. Check out the following links to get the scoop on common problems techs are running into today.
In the most recent video edition of "The Trainer", Pete Meier of Motor Age gives pointers on what to do when a customer complaining of slow-start or no-start conditions comes into your shop. Step-by-step, he goes through the diagnostic techniques, including a few of his own personal techniques, that are used to get to the bottom of pesky battery and starting system issues.
Some techs will see a "no-code" reading on a diagnostic tool and simply write off the car as having no issues, moving on to the next repair ticket. Other techs, like Gary Goms, choose to dive deeper and approach these "no-code" situations with techniques learned from many years of experience in garages and shops. Addressing issues from stalling Jeeps to a misfiring Mustang, Gary shares his knowledge of engine testing and understanding diagnostic reading.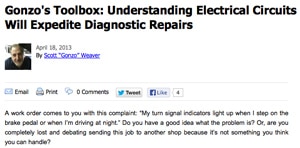 Getting back to the basics, Scott "Gonzo" Weaver of Superior Auto Electric in Tulsa gives a lesson of Electrical Circuits 101. How does one identify which electrical current is causing the customer's faulty turn signal indicators? What's the next step to confirming and fixing the problem? Check out Scott's article at AutoCarePro.com to dive into all things electrical.
We hope these articles served you well, whether helping you with a specific problem or getting you ready for one you may see in the future.